July 4, 2022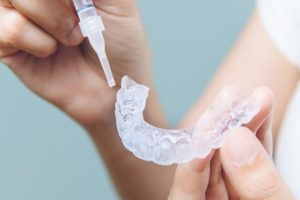 You may have eaten rice cakes that taste like cardboard to lose weight. To quit smoking, your brother started vaping, and now he's addicted to that. To make a positive change in your life, it's not set in stone you must endure a negative experience along the way. Take teeth whitening, for example. Can it cause teeth sensitivity? Sure, but you don't have to put up with that for a smile upgrade. Keep reading to learn from your cosmetic dentist in Chevy Chase about the common causes of teeth sensitivity after a whitening treatment and what you can do to prevent it!
What Can Make My Teeth Hurt After Whitening?
Can you whiten sensitive teeth? In fairness to whitening, some people have naturally sensitive teeth. Because the enamel strength and quality of teeth vary by person, so will the level of sensitivity. Age, previous dental work, and enamel erosion are all factors.
Teeth sensitivity affects millions annually and some other painful possibilities can include cavities, cracked teeth, a recent dental treatment, and gum disease. Dentin hypersensitivity is a painful condition that occurs when the inner layer of a tooth gets exposed.
Now that blame has been potentially placed elsewhere, your teeth sensitivity can be the result of a whitening treatment. Teeth sensitivity may occur in some patients during and after select treatments that contain peroxide-based whitening agents.
Peroxide is present in whitening treatments at the dentist's office, over-the-counter whitening kits, and in whitening toothpaste. It gets below the tooth's surface to lighten it.
In cases when sensitivity occurs, it typically results from the whitening treatment removing microscopic amounts of minerals from your enamel. This exposes the dentin in the second layer of your teeth. This temporary dentin hypersensitivity will decrease as the minerals in your enamel are restored.
If you have a teeth sensitivity issue, you may notice short-term pain associated with:
Air
Cold foods or beverages
Sweet, sour, or acidic items
Brushing your teeth
What Can I Do to Reduce Chances of Teeth Sensitivity from Whitening Treatment?
Teeth and gum sensitivity are usually temporary and stop after you complete your whitening treatment. However, if you are aiming to avoid pain altogether, here are some things you can do:
Use a lower concentration of peroxide in your whitening treatment
Reduce the amount of whitening treatment in the bleaching agent tray
Take a break between your treatments until the sensitivity subsides
Brush with a gel or toothpaste that helps reduce sensitivity
When you are having a whitening treatment at the dentist's office, you can request for them to use a desensitizing treatment or varnish that is applied when you are in the chair. This will provide immediate sensitivity relief.
Also, your dentist can conduct a "touch-and-air test" to evaluate your sensitivity level prior to whitening and recommend the whitening treatment that will work best for your individual needs. If sensitivity has already occurred, the dentist may have recommendations on over-the-counter medications or topical treatments.
While there can be some short-term discomfort for sensitive teeth after whitening treatments depending on the person, the best thing you can do is keep your dentist in Chevy Chase informed of your plan and take their advice on ways to minimize or avoid pain and expedite relief. In the big picture, your bright smile is going to be worth it!
About the Author
Dr. Ronan Freyne works with patients to decide which treatment path is right for them. He earned his dental doctorate from the University of Medicine and Dentistry of New Jersey and is a member of the American Dental Association. If you are interested in teeth whitening, he offers in-office whitening and at-home whitening kits. Schedule a consultation on his website or call (301) 986-0700.
Comments Off

on How Can I Prevent Teeth Sensitivity After Whitening Treatment?
No Comments
No comments yet.
RSS feed for comments on this post.
Sorry, the comment form is closed at this time.