Invisalign for Crowded Teeth – Chevy Chase, MD
Using Clear Aligners to Create Space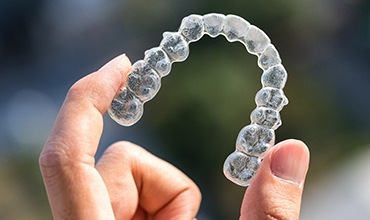 Invisalign in Chevy Chase is considered to be one of the most versatile orthodontic solutions. Fixing a wide array of dental problems, one of the most common is overcrowding. If you have teeth that sit too close together, this not only puts you at risk for various oral and ultimately, overall health problems, but it also lowers your confidence level. Instead of succumbing to the false reality that your smile is not "fixable," let Dr. Ronan Freyne use Invisalign clear aligners to give you the space your teeth need for a happier, healthier smile. Contact our office today to learn more.
What Happens When Crowded Teeth Are Left Untreated?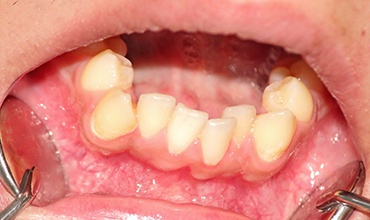 Not only can you suffer from low self-esteem as a result of your crowded teeth, but you can also face various oral and overall health problems because of your inability to properly clean your teeth. Brushing and flossing can be difficult, not allowing you to get in-between and remove harmful bacteria and trapped food particles. As a result, you can experience:
Gum disease
Tooth decay
Cavities
Depending on the problem(s) that develop, your mouth isn't the only thing that will be negatively impacted. If gum disease begins to attack your soft oral tissue and is left untreated, any infection or inflammation can enter the bloodstream and cause serious health issues, some of which include:
Heart attack
Stroke
Diabetes
Respiratory disease
Premature birth
Low birth weight
Alzheimer's
Dementia
The Invisalign Treatment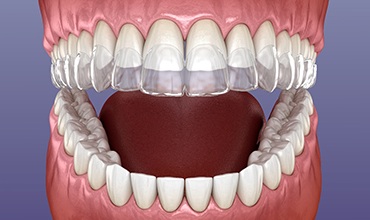 The first appointment you will have with your cosmetic dentist in Chevy Chase will allow you to discuss your goals and what you hope to change about your current smile. Dr. Freyne and his team will examine your oral cavity and determine if you are a qualified candidate for Invisalign. If so, digital impressions will be taken of your mouth and sent off to a laboratory where technicians will custom-create your aligners.
Before you leave, you and Dr. Freyne will go over your treatment plan, making sure you are happy with the timeframe. After several weeks, you will return to retrieve your aligners and have them fitted. You'll receive detailed instructions regarding how long to wear each set before swapping them out for the next.
The average length of time you'll need to wear your trays is 20-22 hours each day for two weeks at a time. Once you have completed those two weeks, you'll switch out your current set for the next in the series. Each time you swap out your aligners, you will notice a gentle shift in your teeth, creating the space needed for better oral health as well as moving your smile into proper alignment.
Depending on the severity of your initial case, treatment times can vary, but you can expect to see dramatic results in less time than with traditional braces.