Dentures & Partials – Chevy Chase, MD
Invest in a Complete Smile Today
Every day, your teeth do a lot for you, like chewing nutritious food, allowing you to speak clearly, and smile confidently. What would you do it you lost some or all your teeth? The American College of Prosthodontists estimates approximately 175 million Americans are missing at least one tooth, and over 35 million are missing all their teeth. If you're in one of these groups, it's time to talk to Dr. Freyne about dentures in Chevy Chase. Many people rejuvenate their smiles with partial or full dentures. Dr. Freyne will help you decide which tooth replacement option is the right solution for you.
Benefits of Dentures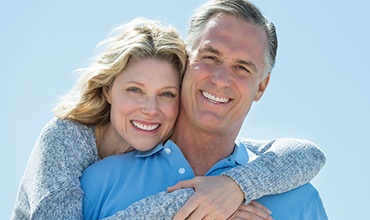 Your confidence likely decreased with every tooth you lost, but your self-esteem isn't the only thing to suffer from an incomplete smile. Your dental health and quality of life are also compromised. In some cases, your general health can also be affected. Thankfully, you can avoid the complications of tooth loss with dentures. They offer exceptional benefits, including:
Improves confidence
Looks and feels natural
Maintain a complete diet
Improves your oral health
Supports your facial tissues
Speak clearly
Types of Dentures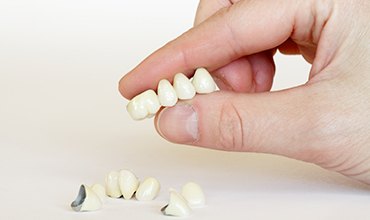 Believe it or not, all dentures aren't there same. Depending on your individual needs and your goals, Dr. Freyne may recommend:
Partial Denture
A partial denture is a solution for patients who've experienced significant tooth loss but still has a few healthy teeth. Dr. Freyne will recommend either a removable or a fixed partial—more commonly called a bridge—depending on your situation.
A removable partial consists of false teeth attached to a metal frame. The frame has clips or brackets that hook on to healthy teeth to hold the partial firmly in place. It can be designed to treat consecutive or non-consecutive tooth loss.
A fixed partial is a single unit made of two dental crowns with a false tooth or teeth in between. The crowns are placed over healthy teeth on both sides of the gap to hold your new teeth in place.
Full Dentures
Full dentures replace an entire arch of missing teeth. This oral device is comprised of false teeth set on an acrylic base that's shaded to look like your own gums. Your dentist in Chevy Chase will make sure your dentures fit comfortably and securely without causing irritation to delicate gum tissue.
Implant-Retained Dentures
As an alternative to traditional treatments, you can secure your denture to your jawbone using an average of 4-8 dental implants. Titanium posts are surgically placed into your jaw to act as new roots. Your jawbone will fuse to the posts to provide a secure foundation for your denture. You'll never need to worry about any slipping or irritation as you enjoy the next best thing to your real teeth.
Learn More About Implant-Retained Dentures
Understanding the Cost of Dentures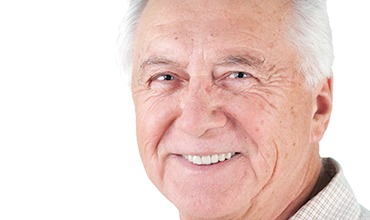 There's not a set fee for dentures because their price is determined by several factors, like the number of teeth you're missing. We'll provide you with a custom estimate and discuss your payment options. You can use your dental insurance to lower the amount you need to pay. For any remaining balance, our office accepts several payment options, including CareCredit.
Dentures FAQs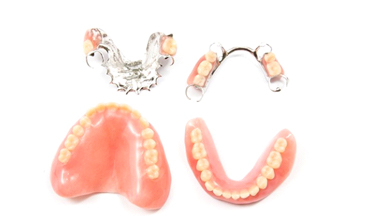 Even after reading all about dentures in Chevy Chase above, you might still have some questions about the treatment. That's perfectly normal. We've taken the liberty of answering some of the most frequently asked questions about dentures that we get here at our office. Simply keep reading below to learn more about your future smile!
How Do You Clean Dentures?
Keeping your dentures clean is an important step in maintaining your oral health. Here are some basic steps you'll need to follow:
Use a special denture brush and cleaning solution to brush your dentures at least once a day.
After every time you remove your dentures, clean your gums, tongue, and palate.
Remove and rinse off your dentures after every time you eat. Just be sure to NOT use hot water since that could change the shape of your dentures.
Handle your dentures carefully when cleaning them.
Soak your dentures in denture cleanser or room temperature water every night.
Schedule routine checkups with your dentist in Chevy Chase every six months.
How Long Does It Take to Get Adjusted to Dentures?
Typically, it can take a few weeks to a month for your mouth to grow accustomed to the new appliance inside of it. During this adjustment period, it's imperative that you continue wearing your dentures during all waking hours to ensure you get used to them as quickly as possible. As you become more used to wearing dentures, it will get easier to speak and chew food. Here are some tips to help you adjust more quickly:
Exercise your cheeks. This will give you more control over your dentures.
Cut your food into smaller pieces so they are easier to chew.
Try applying denture adhesive.
Read your favorite book out loud.
How Much Denture Adhesive Should I Use?
Before you apply denture adhesive, it's important that your dentures are clean and fully dry. Start applying the adhesive in either small strips or dots to ensure even coverage. Make sure to NOT apply the adhesive too close to the edge, and use only a very small amount to begin with. Otherwise, your dentures could become quite difficult to remove. For a secure fit, press and hold your dentures firmly in place.
My Dentures Feel Loose. Do They Need to Be Adjusted?
When you're missing teeth, your jawbone is no longer stimulated by your tooth roots. As a result, your jawbone and facial muscles begin to gradually deteriorate and lose their shape. Because of this, your dentures may lose their fit every few years. If your dentures feel loose or are slipping around in your mouth, contact us and we'll see about giving them and adjustment.
Rebuild Your Smile Today
If you're ready to restore a complete, beautiful smile, it's time to schedule your consultation with Dr. Freyne. Contact our office today to replace your missing teeth.