Chevy Chase Invisalign® Clear Braces
A straight, healthy smile is something every patient deserves, and at the Chevy Chase dental office of Ronan Freyne, DMD, we are happy to offer invisible smile alignment, using the innovative Invisalign clear braces orthodontic system. Rather than large brackets and wires that can irritate your soft tissue and leave you feeling less than confident in your smile during treatment, Invisalign uses clear alignment trays to gently move teeth into their ideal position over the course of just eight to eighteen months of treatment. If you want to learn more, call Dr. Freyne and his Chevy Chase dental team to schedule an Invisalign treatment consultation today. We look forward to helping you design and create your healthiest smile.
How Much Does Invisalign Cost?
The cost of Invisalign orthodontics typically ranges from $3500 to $8000 depending on the length of treatment time, number of aligners you need, and a variety of other factors. This is only a few thousand dollars higher than the average costs of traditional braces, and when you consider all of the benefits of Invisalign orthodontics, it can be worth the added investment. Additionally, most dental insurance providers now offer the same treatment coverage for traditional braces and Invisalign orthodontics, so your out of pocket treatment costs will be about the same whether you choose Invisalign or bracket and wire braces.
How Does Invisalign Work?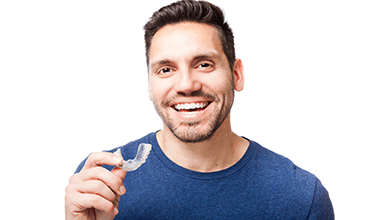 Invisalign uses a series of clear alignment trays to deliver perfectly aligned smiles. Each set of aligners represents the smile one step closer to the ideal end position. Once in place, you'll wear the set of aligners for about two weeks at a time. Then, simply exchange the current set for the next set in the series. Every six to eight weeks, you visit our dental office for a checkup to ensure your smile is moving according to plan. After just eight to eighteen weeks of treatment, you'll have a perfectly aligned smile.
What are the Benefits of Choosing Invisalign?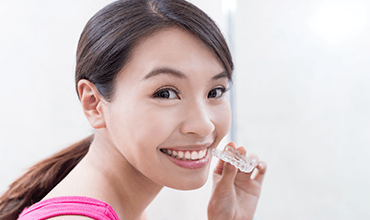 When you decide that Invisalign is the right orthodontic option to deliver your healthiest smile, there are a number of benefits you can expect during treatment, including:
Speed – overall treatment time is just 8 to 18 months compared with 18 to 36 months for traditional bracket and wire braces. Patients also need to visit our office less often for checkups throughout the course of treatment.
Comfort – brackets and wires could be very irritating to the soft tissue, especially for patients with allergies or sensitivities to metal. The smooth, plastic Invisalign trays ensure patients' complete comfort throughout the course of treatment.
Hassle-free – traditional bracket and wire braces required patients to make changes to their diet and oral hygiene routines, but removable Invisalign trays allow patients to continue consuming all of their favorite foods and brushing and flossing as usual during treatment.
Cosmetic – perhaps the most obvious benefit of Invisalign treatment is the natural looking appearance of your smile even with your alignment trays in place. You can smile with complete confidence while you dramatically transform you smile.