Invisalign – Chevy Chase, MD
Creating a Straight, Healthy Smile
A straight, healthy smile is something every patient deserves, and your cosmetic dentist in Chevy Chase, Dr. Ronan Freyne, is happy to offer Invisalign to help you achieve just that. Rather than large brackets and wires that can irritate the soft tissues in your mouth and leave you feeling less than confident in your smile during treatment, Invisalign uses clear plastic aligner trays to gently move teeth into their ideal position over the course of eight to eighteen months of treatment on average. If you want to learn more, contact Dr. Freyne and his dental team to schedule an Invisalign consultation today.
How Does Invisalign Work?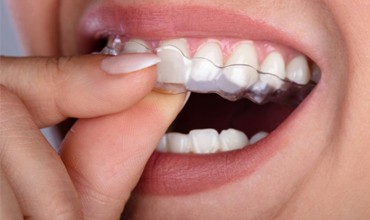 Invisalign in Chevy Chase uses a series of clear alignment trays to deliver perfectly aligned smiles. Each set of aligners represents the smile one step closer to the ideal end position. Once in place, you'll wear the set of aligners for about two weeks at a time. Then, simply exchange the current set for the next set in the series. Every six to eight weeks, you visit our dental office for a checkup to ensure your smile is moving according to plan. After just eight to eighteen weeks of treatment, you'll have a perfectly aligned smile.
Indications for Invisalign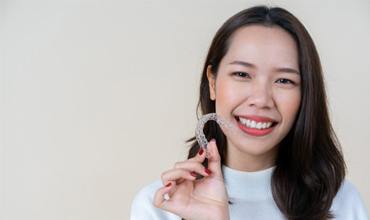 Several different orthodontic issues can be corrected by Invisalign, including:
Crowded Teeth
If your teeth are too close together, it can be difficult to properly clean them, inviting bacteria that can cause tooth decay and gum disease. Invisalign can create more space between the teeth so they can be more easily cleaned.
Learn More About Invisalign for Crowded Teeth
Spaces Between Teeth
You might feel like your gapped smile is unattractive, but it's much worse than that. Bits of food can get caught in the spaces between your teeth, causing problems like bad breath and cavities. Invisalign can create more even spaces between your teeth.
Bite Alignment
Having problems like an overbite, underbite, or crossbite can place undue pressure on your jaw joint and lead to problems like teeth grinding and jaw clenching. These issues can accelerate wear and tear on your tooth enamel and leave you more susceptible to cavities and sensitivity. Invisalign can correct your overall bite alignment.
Benefits of Invisalign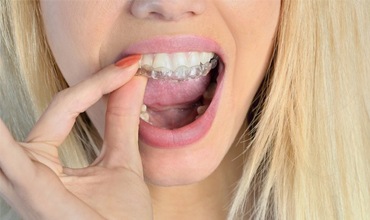 When you decide that Invisalign is the right orthodontic option to deliver your healthiest smile, there are a number of benefits you can expect during treatment, including:
Speed – Overall treatment time is just 8 to 18 months compared with 18 to 36 months for traditional bracket and wire braces. Patients also need to visit our office less often for checkups throughout the course of treatment.
Comfort – Brackets and wires could be very irritating to the soft tissue, especially for patients with allergies or sensitivities to metal. The smooth, plastic Invisalign trays ensure patients' complete comfort.
Hassle-free – Traditional bracket and wire braces require patients to make changes to their diet and oral hygiene routines, but removable Invisalign trays allow patients to continue consuming all of their favorite foods and brushing and flossing as usual during treatment.
Cosmetic – Perhaps the most obvious benefit of Invisalign is the natural-looking appearance of your smile even with your alignment trays in place. You can smile with complete confidence while undergoing treatment.
Understanding the Cost of Invisalign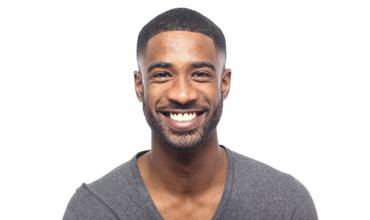 Invisalign typically costs around the same as traditional braces, but not always. There are several factors that could influence the final cost of your Invisalign in Chevy Chase, such as your age, the severity of your dental misalignment, and your dedication to wearing your aligners. The best way to find out how much you will end up paying out-of-pocket is to come see us for an Invisalign consultation. Dr. Freyne and our team will walk you through the entire process and explain which factors make up the total cost of your new smile. Contact us today to schedule an appointment and find out what you can do to keep your expenses low while wearing Invisalign.
Factors that Affect the Cost of Invisalign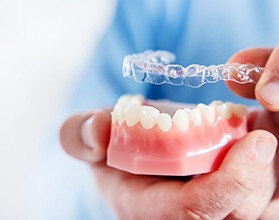 No two Invisalign treatments are the same. This is why there is no set price for these clear aligners. Each individual who arrives in our office will receive a personalized treatment plan that uses various factors to determine the overall cost. When arriving for your initial consultation with Dr. Freyne, he will consider the following when creating your cost estimate:
Do you need clear aligners for your top or bottom teeth or both?
How long will your treatment last? It may be necessary to wear additional aligners if your teeth do not move as they should, which can add to the overall cost.
How severe is your case? Fixing a slight gap between your teeth will cost much less than working to realign your current overbite.
Invisalign vs. DIY Aligners: Which Costs More?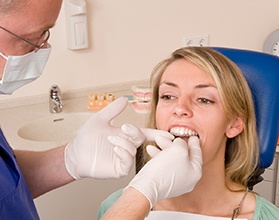 You've likely seen advertisements for mail-in aligners. This do-it-yourself (DIY) clear aligner system is appealing because of its convenience and affordability; however, just because you might pay $2,000 instead of $3,000-$8,000 with Invisalign doesn't necessarily mean you'll get the same, great results.
Yes, it's a popular option for people who want a straighter smile, but if you want to be confident in how you're spending your money, here are a few reasons why you may want to rethink your decision and instead, see us for Invisalign treatment:
With DIY Aligners, you will have to capture impressions yourself. This cold, messy dental putty may not leave an accurate impression, which can produce ill-fitting aligners that do more damage to your smile than you might think.
You will not have a designated dentist or orthodontist you can see regularly to ensure everything is moving along smoothly. You will essentially be in charge of your own treatment.
Also, because there is no actual orthodontist or dentist for you to see, should you experience problems along the way, you'll have to pay to see a local Invisalign dentist in Chevy Chase who can help.
By choosing to see Dr. Freyne for Invisalign, you can rest easier knowing that your smile is in the best hands. His experience, knowledge, and training make him qualified to provide this method of orthodontic treatment in a way that produces long-lasting results. And the best part is that he will remain with you throughout treatment to ensure your teeth and bite are shifting accordingly.
Does Dental Insurance Cover Invisalign?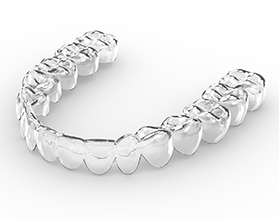 Depending on your dental insurance coverage, you may receive up to 50% off orthodontics; however, many companies have exclusions and stipulations that you'll need to review before agreeing to start treatment. If you need help to review your policy or better understand what you are eligible to receive, our dental team will be happy to work on your behalf to go over the information and discuss with your insurance company how much your out-of-pocket expenses will be. We can then file any necessary paperwork and claims for you.
If you have a Flexible Savings Account (FSA), you should know that you can use these funds to help pay for your Invisalign in Chevy Chase.
Options for Making Invisalign Affordable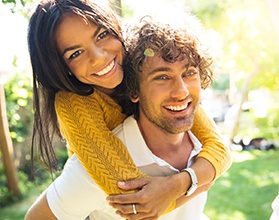 If you are uninsured or need help to pay any remaining costs that dental insurance doesn't cover, Dr. Freyne is pleased to provide in-house financing. Through this process, you can apply for one of the few options allowing you to pay off your Invisalign treatment over several months. With interest-free payments, you can choose between a 3, 6, or 12-month plan.
Invisalign FAQs
Dr. Ronan Freyne, your cosmetic dentist in Chevy Chase, has helped countless people achieve the straight smiles they've always wanted with Invisalign. However, we understand that straightening your teeth is not a decision to be made lightly. We want all of our patients to be well-informed and confident in their treatment choices. That's why we've included the answers to some frequently asked Invisalign questions below. Of course, Dr. Freyne will be happy to answer any additional questions during your appointment!
Am I Too Old for Invisalign?
Once your teeth and jaws have finished developing, there is pretty much no upper age limit when it comes to Invisalign treatment. Millions of adults around the country have straightened their pearly whites with Invisalign.
Keep in mind, though, that older patients may take a bit longer than younger ones to achieve results with Invisalign. This is because as you age, your teeth become more firmly embedded in your jaw, making them a bit harder to move. However, this shouldn't prevent you from finally getting the straight, healthy smile you deserve.
Are the Results of Invisalign Permanent?
All orthodontic treatments, including Invisalign, require you to wear some type of retainer after you're finished. Otherwise, your teeth might "forget" their new positions and revert back to their original crooked states, meaning that your treatment was all for nothing.
With Invisalign, your retainer will be a pair of clear trays, similar to your aligners. Once your treatment is complete, your dentist in Chevy Chase will discuss how long you should wear your retainer. At first, you'll probably have to wear them just as often as you did your aligners (only removing them for eating, brushing, and flossing). Eventually, you'll be able to switch to only wearing them at night.
Can I Get Invisalign If I've Had Braces Before?
Many people who wore braces in their youth have had their teeth shift back since then. If this happened to you, then Invisalign might be a great way to enjoy a straight smile again. In fact, you may be an even greater candidate for Invisalign in Chevy Chase because the braces most likely fixed the more severe orthodontic issues.
Are Invisalign Trays Easy to Take Care Of?
Invisalign maintenance is actually fairly simple and straightforward. Follow these tips to keep your aligners in good condition throughout the course of your treatment:
Every morning and night, gently brush your aligners with clear liquid hand soap and a toothbrush (separate from the one you use to clean your teeth). Avoid using toothpaste since it can be abrasive.
Only clean your aligners with cold or room-temperature water. Hot water could cause them to change shape.
To prevent staining, only drink plain water while you're wearing the trays.
Brush and floss after eating and before putting the aligners back in your mouth. Otherwise, food debris could get trapped against your teeth and attract bacteria, causing bad breath.