Our Dental Practice Philosophy
At Ronan Freyne, DMD, we strongly believe that a dentist cannot merely treat the teeth of a patient but rather must evaluate and treat the patient as a whole, comprehensively. What affects one part of the human system will eventually influence other parts of the body. Changes in the form or function of teeth, muscle, joints, bone or ligaments are interrelated and must be understood thoroughly in order to perform effective dental treatment. Dr. Ronan Freyne also knows there are commonalities among patients, but no two are the same. Whether you are coming in for a routine dental checkup, need an emergency dentist in your area, or are ready to rebuild your smile from root to crown with dental implants, time must be spent understanding your unique health needs, goals and desires. This type of individualized, patient-centric care is what sets our practice apart from the rest.
Chevy Chase's Trusted Dentist
Dr. Ronan Freyne
Dr. Ronan Freyne and his team have been serving Chevy Chase for close to twenty years. In that time, he has distinguished his practice as one that does not simply rely on patient volume, but one that creates long-lasting relationships with each patient. Overdue for your six-month teeth cleaning? Interested in straightening your teeth with Invisalign? Looking for sleep apnea treatment? You can expect a team that genuinely cares about the condition of your oral health and specific dental needs. With this in mind, please allow us to help you realize your individual smile goals!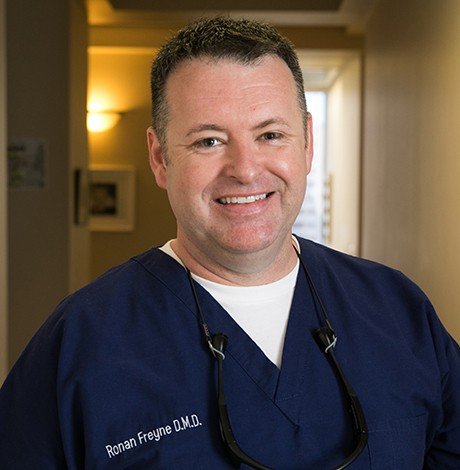 Patients Love Our Dentistry
"By far the best dental office I have ever been to. The staff are extremely nice and highly knowledgeable, and Dr. Freyne is fantastic. Particularly as someone who used to hate going to the dentist, I cannot recommend them enough!" Corey B. Bethesda, MD
"Dr. Freyne and his entire team has been a pure joy and a very fortunate find for me. Absolutely the best experience and results! If you are anywhere in the DC area, I strongly encourage you to consider Dr. Freyne's practice." Rob D. Silver Spring, MD
"Everyone in Dr. Freyne's office is so incredible! They all totally eased my nerves and made the entire experience as pleasant as a dentist visit could be — if not more! Dr. Freyne is so kind and knowledgeable, and you can tell he truly loves his job and cares about his patients." Casey W. Washington, D.C.
Dental Insurance and Financing
How We Make Top-Notch Dentistry Affordable
With us, the financial component of your care is never headache-inducing or stressful. In addition to our affordable fees, we are happy to help families and individuals utilize their much-deserved benefits. No dental insurance? No worries! We also have in-house financing options that split up your treatment costs into interest-free monthly payments. Simply put, whether you are coming in for preventive care, are interested in upgrading to implant dentures, or are ready to transform your smile with veneers, we go above and beyond to ensure cost doesn't stand in your way.
Locating Our Office
In the Heart of Chevy Chase, MD
When it comes time for your appointment, you can find us at 5530 Wisconsin Ave. Suite #1030 in Chevy Chase. We are just off State Road 355, making us the perfect fit for patients looking for a dentist near Bethesda too! Our dental office is close to the Mazza Gallerie shopping mall, in the Chevy Chase Building. For additional instructions on locating our office, don't hesitate to give us a call!