Dental Bridges – Chevy Chase, MD
Complete Your Smile with a Dental Bridge
Your teeth are designed to last for a lifetime, but 120 million Americans are missing at least one tooth. Losing a tooth isn't just an aesthetic issue. Your oral health can suffer devastating consequences if it isn't replaced. Not to mention, your self-esteem can also be affected. You don't need to hide the gaps in your smile any longer. We can replace your missing teeth with a dental bridge in Chevy Chase. You can regain the healthy, attractive smile you deserve.
What is a Dental Bridge?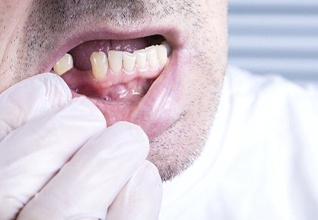 A dental bridge is a method of recreating 1-4 missing teeth in a row. Your dentist will take an impression of your mouth to replicate the portions of your teeth above the gum line. Not only does this restore the appearance of your smile, but it also provides your remaining teeth with the support they need to avoid common issues associated with tooth loss. You'll invest in a complete smile and reduced dental expenses.
Types of Dental Bridges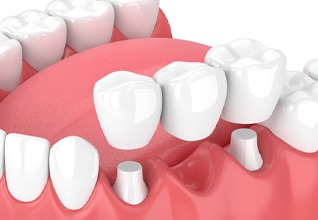 You have more options than ever to treat tooth loss. Your dentist in Chevy Chase will examine your mouth and learn more about your preferences to create a personalized treatment plan. It's not uncommon to need a little prep work before getting your new teeth, like tooth extractions or gum disease treatment. Your dentist will explain all your options, including:
Traditional Dental Bridge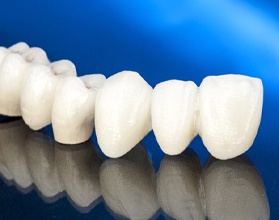 A bridge and crowns have been used for generations to treat consecutive tooth loss. Although they can treat up to 3 teeth, they are most often recommended to replace 1-2. The bridge is held in place by bonding dental crowns over the adjacent teeth. With the right aftercare, your bridge can last for 5 to 10 years before needing to be replaced.
Implant Bridge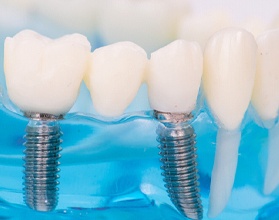 As an alternative to a traditional bridge, you can anchor your new teeth to your jawbone with dental implants. 1 or 2 titanium posts are surgically placed into your jawbone to replicate the roots of your teeth. This provides the next best thing to your real teeth using a solution that's proven to last for decades with the right aftercare, like committing to your oral hygiene.
The Benefits of Getting a Dental Bridge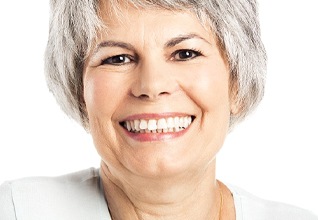 Every tooth is vital to your dental health. You don't have to let a missing tooth affect your oral health, quality of life, or confidence. A bridge provides many benefits, including:
Natural-looking results
Durable, long-lasting solution
Improves oral health
Boost self-esteem
Restores oral functions
Easy maintenance and care
Reduces overall dental expenses
If you are ready to complete your smile, contact our office today to request your consultation for a dental bridge.