Dental Implants – Chevy Chase, MD
Take Back Your Smile with Natural-Looking Tooth Replacement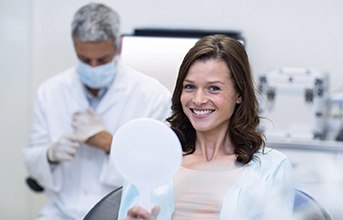 Tooth loss can impact a whole lot more than the way your smile looks. Biting and chewing your food becomes more challenging, and the risk of additional tooth loss increases. Although dental bridges and dentures can make your smile appear whole again, these solutions only replace the crowns of the teeth – the visible portions above the gums. If you're looking for a long-term solution that can fully restore your missing teeth in every way, dental implants in Chevy Chase are the way to go. Contact our office today to schedule your dental implant consultation with Dr. Ronan Freyne!
Why Choose Ronan Freyne, DMD for Dental Implants?
Dental Implants Placed & Restored In-House
Chevy Chase Dentist with Almost 20 Years of Experience
Relaxing Dental Office Atmosphere
What Are Dental Implants?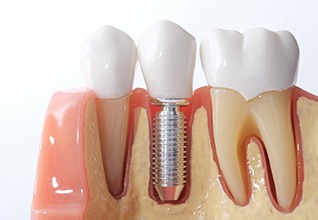 A dental implant is a titanium post that is surgically placed in the jaw to take the place of a missing tooth root. Then, the implant takes about three to six months to fuse with the surrounding jawbone in a process called osseointegration. Once this step is complete, Dr. Freyne can install metal abutment fixtures on top of the implant, which can be used to support a lifelike dental crown that brings back the natural appearance of your smile. Multiple dental implant posts can also be placed to support a dental bridge or denture.
No matter how many teeth you've lost, dental implants can create a solution that delivers unmatched strength, function, and beauty. Plus, they have the potential to last a lifetime!
The Dental Implant Process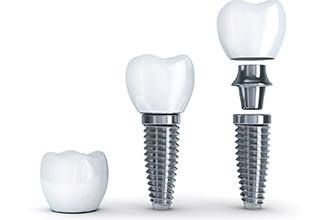 Unlike traditional treatments, the process of rebuilding your smile with dental implants will take several months to complete because it's performed in multiple phases. Each step is necessary to replicate the entire structure of your missing tooth. Although it might take a bit longer, it's time well spent to ensure your new smile has the foundation it needs to last for a lifetime.
Initial Consultation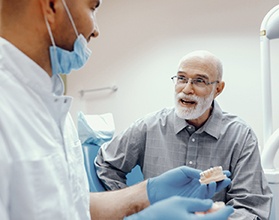 Generally, anyone who has good oral and overall health is a candidate for dental implants; however, you'll still need a consultation with your dentist in Chevy Chase to ensure they are right for you. Besides a visual examination, Dr. Freyne will need to review a CT scan of your mouth to assess your jawbone's density. He will also take time to discuss your oral and lifestyle habits to look for any red flags that can cause a problem, like smoking.
Based on the results of the examination, you may need additional treatments to become a candidate for dental implants, like periodontal therapy, bone grafting, or a sinus lift. Although it adds more time to your treatment plan, it creates the healthy, strong foundation your dental implants need to thrive.
Surgical Implant Placement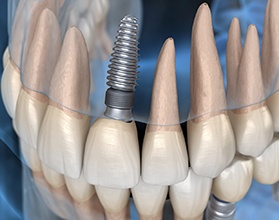 After you've healed from any previous treatments, you're scheduled for your implant placement surgery. If you're only having 1 post placed, a local anesthetic may be all that's needed; however, if you have a more complex case, you may require a sedative or general anesthesia.
Once you're numb, your gum tissue is opened to expose pre-determined areas of your jawbone. A small hole is drilled into it to insert the post. Your gum tissue is stitched closed, and you'll spend the next few weeks healing.
The post acts as a new root which stimulates growth in your jawbone. Through a process called osseointegration, your bone will fuse to the post, allowing it to stay in place forever with the right aftercare.
Abutments & Restorations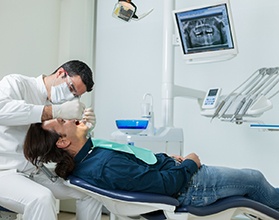 After your jawbone has healed, you'll enter the final phase of your treatment. You'll need a second minor surgery to attach an abutment to your dental implant. This is a special fixture between the post and the restoration.
It will take about two weeks for your gum tissue to heal. During this time, the dental lab is hard at work carefully crafting your new restoration. It will be made to match your natural teeth to look seamless when you smile.
Benefits of Dental Implants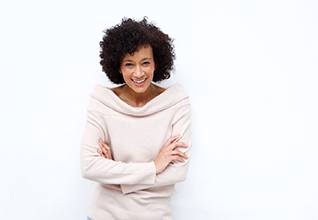 Unlike traditional tooth replacement methods, dental implants are designed to integrate with your existing jawbone. This process is known as osseointegration and takes place over the course of several months. Once fully integrated, your replacement should feel almost identical to your previous tooth because implants replace the entire tooth structure, not just the crown portion. As a result, you're able to do quite a bit more and enjoy more advantages with dental implants than with traditional dentures or bridges. Whether you're replacing just a single tooth or a complete arch, dental implants are hard to beat!
Day-to-Day Benefits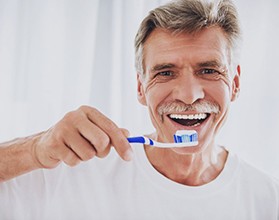 With a fully integrated dental implant, your jaw will keep its regular shape thanks to the implant consistently stimulating the bone inside your jaw. Chewing your favorite foods also feels completely natural, whether it be your favorite cut of steak, fresh veggies, or an apple. In fact, you get about 70 percent of your original biting force back! Blood flow is also restored, allowing you to hold onto your youthful appearance and your cheeks' natural elasticity. Plus, the daily maintenance for implants is much simpler—just brushing and flossing as usual—as long as you continue to see Dr. Reyne on a regular basis for checkups and cleanings.
Health Benefits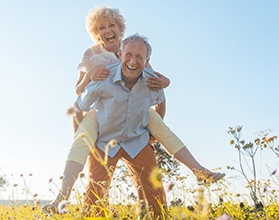 In addition to being able to eat and chew foods you love, you'll have the ability to stick to a healthier diet, which impacts your overall well-being and your quality of life. Moreover, with traditional dentures, you may worry about your replacement teeth slipping or even coming out, causing you to avoid drawing attention to yourself or expressing your smile, but this isn't an issue with dental implants. They are firmly grounded in the jawbone, which means you don't have to feel self-conscious about smiling, talking, or eating in public. With renewed confidence, you can let your smile show more often, which is proven to improve your mood and help you in social and professional situations.
Long-Term Benefits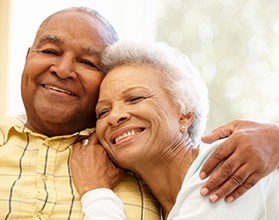 Finally, dental implants are designed to withstand the test of time. On average, implants last anywhere between 25 years and a lifetime when properly maintained. Clinical studies show dental implants to have a 95 to 98 percent success rate, even after 10 years of use! On the other hand, traditional dentures need to be replaced about every 5 years or so, and bridges, every 7 to 10 years. Over time, the expense of these replacements add up, meaning that you could actually save money in the long run by choosing dental implants. To learn more about the benefits of dental implants for your own smile, request an appointment today!
Who Dental Implants Can Help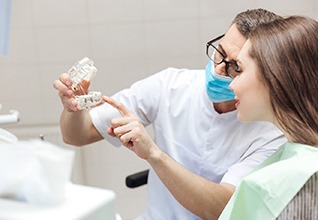 Dental implants are one of the most versatile tooth replacement options out there. It doesn't matter if you're replacing one tooth or several, they can be designed with your needs in mind.
Missing One Tooth
To replace a single tooth, a titanium implant post will be placed inside your jaw. This is followed by an all-porcelain crown, which is meant to reflect light exactly like natural tooth enamel.
Missing Multiple Teeth
Replacing multiple consecutive teeth is done via an implant-supported dental bridge. Unlike traditional bridges, which use modified teeth adjacent to the gap to anchor a restoration, implant bridges use an implant on either side of the bridge. Keep in mind that you do not need a dedicated implant for each tooth you intend to replace.
Missing All Teeth
Whether you need to replace your top or bottom denture, dental implants are the perfect solution. It doesn't matter if you need a partial or full denture, both can be custom-made to fit on top of dental implants. You can also opt to have the implant denture fixed or removable, depending on your preference.
Understanding the Cost of Dental Implants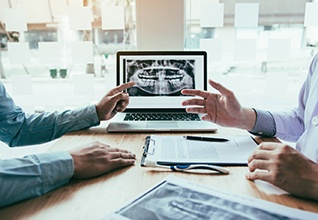 The total cost of your treatment will likely differ from another patient's simply because of how customizable dental implants can be. For one, our office doesn't know if you need to have periodontal therapy performed since healthy gum tissue is necessary prior to surgery. If you have low bone volume, a bone graft may be needed to make you eligible for implants. The number of implants you need placed and the type of restoration used will also influence cost.
The total cost of your treatment will likely differ from another patient's simply because of how customizable dental implants can be. While the cost of dental implants may seem high at first, it should be noted that they are meant to be a long-term investment. They do not require the same level of maintenance nor periodic replacement as other solutions, making them a preferable option. Below are some of the factors that you should keep in mind when considering the overall cost of dental implants in Chevy Chase.
Preliminary Treatments & Dental Implant Surgery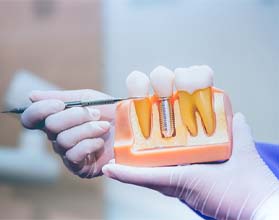 The preliminary treatments that may be performed before you get your implants, such as gum disease therapy, tooth extractions, or bone grafting, will contribute to the process of getting dental implants. They are often necessary to ensure the success of your new smile. Sometimes, preliminary treatments are covered by dental insurance, so this is something you should check with your provider. The dental implant placement surgery itself has its own cost, and this is affected by the location of the missing teeth and the type of sedation you require.
The Parts of Your Dental Implant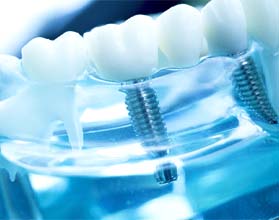 Here are the factors that affect the cost of your implants:
Number of Implants: Depending on the number of teeth you are replacing and where they are located in the mouth, you will need more or less implants. The more you need, the more they will cost.
Restoration Type: Crowns, bridges, and dentures all have different costs. Generally, smaller restorations are more affordable.
Material: Implants can be made out of zirconia or titanium, and this will affect the overall cost.
Brand: Dental implants come from a variety of manufacturers, and this will determine how much you end up paying for them.
How Dental Implants Pay for Themselves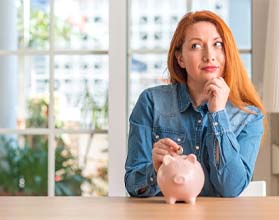 While it can be tempting to try and save money by opting for dentures or bridges, dental implants have benefits that you can't get anywhere else, and they can even help you to save on overall costs in the long run. You won't need to pay for a replacement every 5 or so years like you would for dentures and bridges, and you don't need to stock up on adhesives or soaking solutions. They can also help you to avoid things like gum disease and tooth decay that require costly care.
Does My Dental Insurance Cover Dental Implants?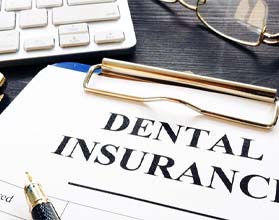 Many insurance plans don't pay for the implants themselves, but there are some exceptions. Parts of the final or preliminary treatments are often covered. Our team can help you review your benefits and determine what you will be able to save thanks to your plan.
Making Dental Implants Affordable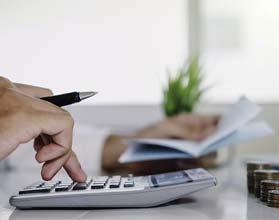 We offer in-house financial options to allow patients to pay off the costs of their dental care over several months instead of all at once. Talk to our team so we can work to create a plan that's ideal for you and your needs.
Dental Implant FAQs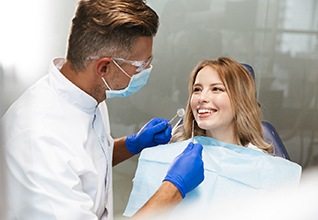 The dental implant process stands in a class of its own when it comes to replacing missing teeth. The insertion of the titanium post beneath the gum line does something no other form of tooth replacement can match – it replaces the entire tooth from the root to the crown. However, before you settle on this type of smile restoration, you'd probably like some more details about the process. To help out, we've answered five of the most commonly asked questions about the dental implant procedure. If you have more questions, though, and you'd like to find out if you're eligible to receive a dental implant, contact our Chevy Chase dental office today to schedule a visit with Dr. Ronan Freyne.
How long does the dental implant process take?
Each patient's situation is different, so a treatment protocol is always designed around his or her specific needs. This can also affect the amount of time needed to perform a particular procedure. After an implant is inserted, it can typically take three to six months for the fixture to fuse with the underlying jawbone, and for the jaw and gums to heal.
How long can I expect my dental implant to last?
One of the most attractive features of dental implant insertion is the longevity it offers. With proper care, which should include brushing and flossing at least two times a day and maintaining six-month dental visits, an implant can last up to a lifetime.
Will I be able to eat the foods I love?
After having a dental implant inserted, you'll be able to maintain a normal diet. However, hard items like certain nuts should be avoided, as they could cause the final restoration to break or the implant to dislodge.
Will I have a natural-looking smile?
Because a dental implant is attached to the jawbone and mimics the function of a tooth root, it provides a natural-looking and aesthetically pleasing smile that will boost your confidence and make for more favorable first impressions.
Is the dental implant process painful?
If you're concerned about being in pain during the dental implant process, then you have nothing to worry about. We'll make sure your mouth is completely numb before the procedure begins so that you can have a relaxed and painless experience.
Now that you're more familiar with the dental implant process, take action today by contacting our Chevy Chase office to schedule an initial examination with Dr. Freyne!