Dental Implants in Chevy Chase
Whether you are missing one tooth or several, it is crucial to replace them as soon as possible. Without a full set of natural teeth, even simple, essential activities like eating your favorite foods can become painful, and your oral health and appearance is likely to suffer as well. Thankfully, dental implants can give you back the seamlessly beautiful and exceptionally functional smile you need to live each day to the fullest! Please contact our Chevy Chase, MD office today if you have any questions for our team about this transformative procedure, or if you're ready to schedule a first consultation with Dr. Ronan Freyne.
What is a Dental Implant?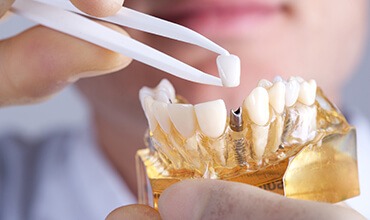 An implant is composed of two major parts. The first one is the titanium body that is designed to take the place of your missing tooth root. This is essential because without a functioning tooth root in place, the jawbone will deteriorate over time. The second component is the tooth-colored crown or other restoration that is anchored over the implant, providing a natural, high-quality replacement for the missing tooth. With implants, patients can smile confidently and take pride in the fact that their newly transformed smile is virtually indistinguishable from the original.
Once it's been determined that you're a good candidate for dental implants, Dr. Freyne can recommend you to a trusted specialist in the area who can handle the initial surgical procedure of inserting the implants within the jawbone. Afterwards, your body will undergo a healing process, during which your natural tissue will progressively fuse with the placed implants and create a sturdy foundation for new teeth.
Dental Implant Restorations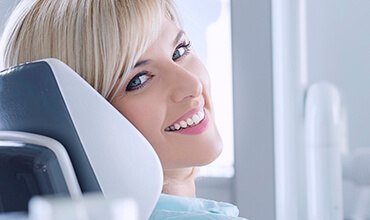 Once you've healed from the surgical placement of your new dental implant(s), it will be time to return to Dr. Freyne so that he can design the ideal, high-quality restoration. This restoration will attach over the top of the implant(s) and complete your new "teeth" in an attractive and long-lasting fashion. Multiple options are available for implant restoration, and our recommendation will depend on the extent of your tooth loss and your own personal preferences. They include:
Implant-Retained Dental Crowns
All-ceramic dental crowns can effectively restore individual implants without requiring any damaging alteration of the surrounding natural teeth.
Implant-Retained Bridges/Dentures
When you have multiple teeth and/or implants that require coverage, an implant-retained bridge or denture can provide more comprehensive and cost-effective restoration. These prosthetics are very similar to their traditional counterparts, but they attach over the implants for a fixed, sturdy fit. Removable "overdentures" are also available for patients who would prefer to have the convenience of an appliance that can be taken out of the mouth for cleaning and storage.
All-On-4 Prosthetics
If you have lost all of the natural teeth along your top or bottom arch (or throughout the entire mouth), Dr. Freyne also offers All-On-4 prosthetics that are designed to anchor over just four strategically placed implants within the jawbone for optimal fit, comfort, and convenience.