Implant-Retained Dentures – Chevy Chase, MD
A Smile That Stays in Place
If you're missing all your teeth on one or both arches, chances are you've at least considered dentures. Maybe you've tried them, but they didn't fit well and slipped around too much while you were just trying to eat or speak. If only there were a solution to this problem. Luckily, there is – implant-retained dentures in Chevy Chase! These special dentures are held in place with dental implants to provide a stability that dentures alone just can't deliver. If you're interested in having a smile that stays in place, contact us to schedule a consultation for implant-retained dentures.
How Do Implant-Retained Dentures Work?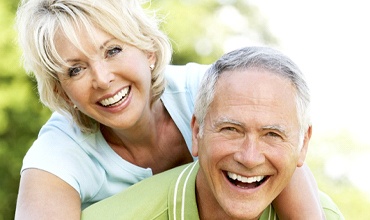 Traditional dentures work by using a combination of messy denture adhesive and unreliable natural suction, which often don't work well enough even when used in conjunction. When dentures are held in place by dental implants in Chevy Chase, they are firmly anchored into your jawbone. After the implants have been given ample time to heal, special clasps are crafted, to which the dentures will attach. The prosthetic teeth can be removable or not, depending on your personal preference.
Am I A Candidate for Implant-Retained Dentures?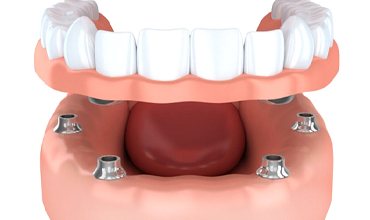 In order to be a candidate for implant-retained dentures, you need to be a candidate for dental implants. That generally means having adequate overall health and having enough healthy jawbone and gum tissue to support implants. However, just because your dental health leaves something to be desired doesn't mean you can never get implants. It simply means you might have to undergo some preliminary procedures first, like a bone graft to give you a healthier jawbone or periodontal therapy to treat gum disease. Once those procedures have been completed, you will be more than ready to receive your implant-retained dentures in Chevy Chase.
The Implant-Retained Dentures Procedure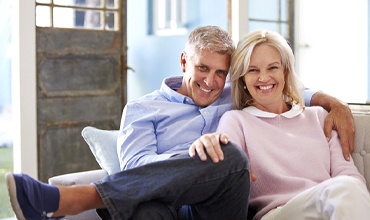 First things first, any teeth that must be removed will need to be extracted to make room for the implants and dentures. Then, Dr. Freyne will strategically place an average of four to six implants throughout the jaw in the places designed to provide the most support for the dentures. The implants that are placed toward the back of the mouth are actually done so at a 45-degree angle so that even patients who have experienced some jawbone loss due to missing teeth can still receive implant-retained dentures. Dr. Freyne may be able to place a temporary denture after your implants have been installed, so that you don't have to go a day without your teeth. However, your permanent dentures cannot be placed for a few months, until the implants have successfully integrated with your jawbone.
Benefits of Combining Dentures & Dental Implants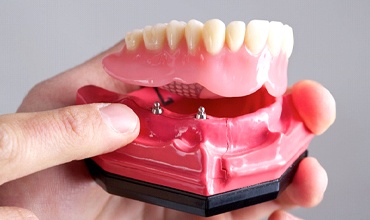 Implant-retained dentures have a multitude of advantages over dentures alone, including:
Preventing jawbone deterioration through stimulation from dental implants
Success rate of over 95 percent
Can last up to 30 years or even a lifetime with proper care
Stability that dentures alone do not provide
No need for messy denture adhesive
Cause no speech problems like whistling or lisping
More cost-effective solution that individual dental implants or dentures alone