June 16, 2022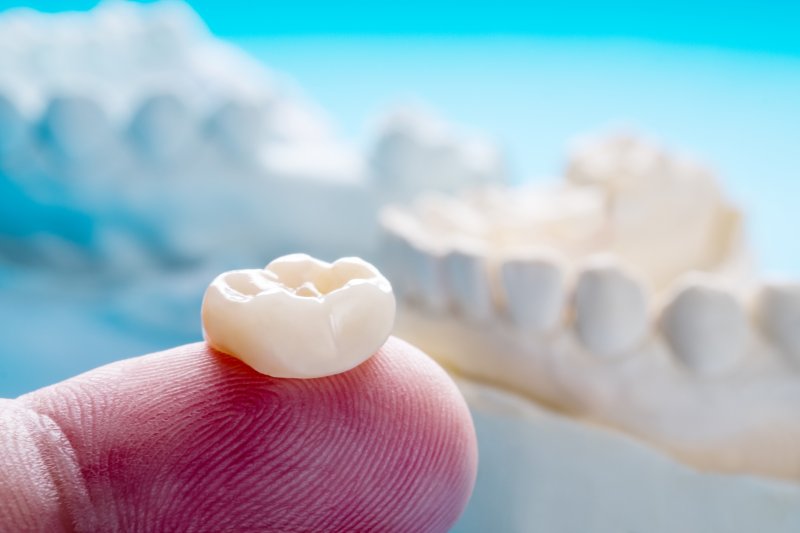 Along with root canal therapy, dental crown treatment has a reputation for being an uncomfortable procedure. Based on what you hear on TV, in movies, and on the Internet, you may think that it'll really hurt. Thankfully, though, such a belief is untrue. Besides some mild post-treatment soreness, getting a dental crown shouldn't hurt at all. Rather, the only lasting thing it'll do is make your smile better than ever. To prove it, here's a summary of what you'll feel from treatment and what to expect during your recovery.
How a Dental Crown Treatment Feels
A traditional crown treatment requires two separate appointments: the preparation visit and the final placement. Neither of these steps will cause you any pain.
Preparation Visit
The preparation appointment removes some of your tooth's enamel so the future crown can fit over it. However, you'll be numbed with an anesthetic so that you won't feel anything from this process.
After the removal, your dentist will take an impression of your tooth. Workers at a dental lab will use this impression to make a handcrafted crown. While you wait for the final prosthetic, your dentist will give you a temporary one to wear between appointments.
Final Placement
Once your dentist receives the permanent crown, you'll return for your second visit. At that time, they'll cement it in place. Of course, they'll first remove the temporary crown and confirm the new one's color, shape, and fit. Doing so will ensure no adjustments are necessary.
This final placement won't hurt. To be safe, though, your dentist may use a numbing agent to ensure you're as comfortable as possible.
What to Expect During Recovery
Your tooth will be significantly adjusted during the crowning process, so it'll likely feel a bit tender for a few weeks afterward. Still, an over-the-counter pain reliever will be more than enough for that sensitivity. Plus, any soreness will improve after just a few days. If necessary, your dental practice can also give you after-care tips.
As you can see, a dental crown procedure would heal your tooth without causing harm. Talk to your local dentist about it so you can get a better smile pain-free!
About the Author
Dr. Ronan Freyne is a dentist based in Chevy Chase, MD, having earned his DMD from the University of Medicine and Dentistry of New Jersey. He strongly believes in staying updated on dental technology and evidence-based medicine for the sake of his patients. His specialties are preventive, cosmetic, and restorative dentistry, not to mention emergency dental services. Dr. Freyne currently practices at his self-titled clinic and can be reached at his website or by phone at (301)-986-0700.
Comments Off

on Will Getting a Dental Crown Hurt?
No Comments
No comments yet.
RSS feed for comments on this post.
Sorry, the comment form is closed at this time.