January 28, 2022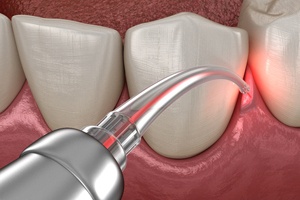 When you visit your cosmetic dentist, you expect the focus to be on improving the appearance of your smile. If your dentist recommends gum disease therapy before any elective procedures, you might question their advice. Don't look for a second opinion. Healthy gums are the foundation of a beautiful smile. Unfortunately, 50% of Americans have gum disease, but most people don't know it. Here's why you'll want to take your dentist's recommendation seriously if you want your investment to last.
Gum Health and Cosmetic Dental Work
Your teeth aren't the only component of a healthy smile. Your gums are equally important. The biggest threat to your gum health is a preventable infection caused by poor oral hygiene habits. Bacteria found in plaque and tartar buildup can irritate and infect the gum tissue. At first, you might notice bleeding, swollen, or tender gums, which indicate the earliest stage of the infection, called gingivitis.
Gum disease therapy can treat the infection without causing any long-term damage to your smile. However, if the infection progresses to advanced stages, it can destroy the supporting structures of your teeth. Despite being preventable, gum disease is the leading cause of tooth loss.
Complications caused by the infection don't stop at your smile. The bacteria can enter your bloodstream, making you prone to various health issues, like cardiovascular disease, Alzheimer's disease, and diabetic complications.
If you have signs of the infection, treating it will be your dentist's top priority before considering any elective procedures. Without the right treatment, certain cosmetic procedures will cover up the issue until it turns into a big problem.
Creating a Healthy Foundation
Although gum disease therapy will add another step to your treatment plan, it's time well spent for a healthy mouth and body. After examining your mouth, your dentist will create a personalized strategy to stop the infection, which can include:
Scaling & Root Planing: Better known as a "deep cleaning," the two procedures are used to remove tartar buildup and smooth the root surfaces to treat the infection. It also discourages future accumulations to prevent the infection from reoccurring.
Soft Tissue Laser Therapy: A diode laser can target diseased tissue with pinpoint accuracy. The advanced technology minimizes postoperative complications, like swelling, bleeding, and infection.
Antibiotic Therapy: Your dentist may use antibiotic therapy along with a deep cleaning or laser gum treatment. The medication is placed inside the periodontal pockets to kill any remaining bacteria.
Achieve the Stunning Smile You Deserve
No matter if chips, breaks, or discoloration are your concerns, your gum health is essential to achieving the smile of your dreams. Don't risk your investment to a treatable infection.
About Dr. Ronan Freyne
Dr. Freyne earned his dental degree from the University of Medicine and Dentistry of New Jersey. He regularly continues his education in advanced specialties, like gum disease treatment and laser dentistry. Dr. Freyne combines his qualifications and experience with the latest innovations in dentistry to create healthy, attractive smiles. If you're ready to achieve a picture-perfect smile, contact our office today to schedule your consultation.
Comments Off

on Gum Disease Therapy Before Cosmetic Dental Work
No Comments
No comments yet.
RSS feed for comments on this post.
Sorry, the comment form is closed at this time.