September 4, 2021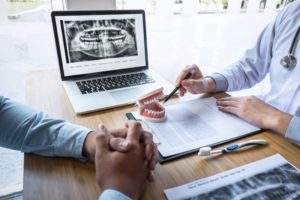 Several small-animal species, including rabbits and hamsters, have open-rooted teeth that never stop growing. They must chew on things constantly to keep their teeth worn down.
That may seem like an annoying predicament, but on the other end of the spectrum, there are some people who wish their teeth would start growing once again. If you have microdontia affecting one or more teeth to make you think they are too small, you may have wondered if you can do anything about it.
Fortunately, thanks to the wonders of cosmetic dentistry you have multiple options to choose from. Keep reading to discover some of the reasons adults can have small teeth, as well as ways your cosmetic dentist in Chevy Chase can help.
Why Do I Have Small Teeth?
Microdontia is the condition for teeth that develop small or may just appear smaller than average. In most cases, it might be a matter of a person having 1-2 small teeth, but for some people, most or all of their teeth can be affected. Here are the categories of microdontia:
True generalized: All your teeth are smaller than average. Usually caused by a condition like pituitary dwarfism.
Relative generalized: Teeth may be normal-sized but can appear small compared to a large jaw or gums that extend too far over the teeth.
Localized: Affecting one or more teeth, this may only impact the crown or root of the tooth. This is the most common type of microdontia, and it usually affects upper teeth.
Microdontia is hereditary and can sometimes be a symptom of a genetic disorder. Short teeth can also be the result of excessive teeth grinding (bruxism), which makes it more common as people age.
How Can I Fix My Small Teeth?
Beyond appearance, short teeth can potentially be more susceptible to wear and tear or increase the likelihood that food and bacteria get trapped to elevate the risk of tooth decay. Fortunately, your dentist has several options to increase the size of your teeth:
Dental bonding: A tooth-colored resin is applied to increase the size of teeth. Recommended for only a few teeth, this treatment does not require a lot of preparation and is usually complete in one appointment.
Porcelain veneers: An option for one to all teeth,veneers cover up the front surface to increase visible size or close gaps. While this will require a thin layer of your enamel to be removed, veneers are a strong, long-lasting option that looks natural and is stain-resistant.The process will take a couple of appointments.
Dental crowns: A crown can improve the shape and strength of an individual tooth. Having a crown created typically takes two appointments. There are a variety of reasons a dentist might recommend a crown, including cosmetic dental imperfections.
Talking to your dentist about your microdontia is a great idea. If they believe it to be a symptom of an underlying health issue for you, addressing that will take priority over cosmetic dental treatment. Otherwise, you can learn more about cosmetic treatments and choose which option is best for you.
About the Author
Dr. Ronan Freyne works with patients to decide which treatment path is right for them. He wants to empower patients to be vested participants in their oral healthcare and overall well-being. If you are interested in increasing the size of your teeth, Dr. Freyne can discuss dental bonding, porcelain veneers, and dental crowns with you to see what makes the most sense for your specific case. To schedule a consultation, visit his website or call (301) 986-0700.
Comments Off

on My Teeth are Too Small; What Can I Do?
No Comments
No comments yet.
RSS feed for comments on this post.
Sorry, the comment form is closed at this time.