April 28, 2021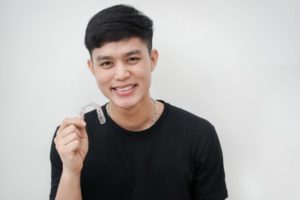 Did you know that almost half of all young adults in the U.S. have untagged a picture of themselves on social media because of insecurities about their teeth? For decades, the only way to fix crooked teeth was by wearing metal brackets, sharp wires, or even orthodontic headgear. These days, though, many patients choose Invisalign instead. This clear aligner system delivers the same dramatic results in just a fraction of the time as metal braces! But just how long does Invisalign treatment take? Read on to learn some of the factors that can affect your Invisalign timeline.
Invisalign Basics
Invisalign treatment involves wearing a series of clear, removable plastic trays over your teeth to gently guide them into their ideal positions. This tooth movement process is planned out ahead of time based on 3D digital models of your teeth, which helps your dentist determine the exact ways your teeth must shift. You'll wear each set of aligners, which will move a small section of your smile at a time, for a few weeks before proceeding to the next set. Throughout the process, you'll see your dentist regularly to ensure you're staying on track with your original treatment plan.
How Long Does Invisalign Treatment Take?
Since Invisalign is much more convenient, comfortable, and cosmetically appealing than metal braces, it's no surprise that patients anxiously await the end results. Braces can take 24 to 36 months to fully align your teeth. The average treatment time for Invisalign is just 12 months!
However, each person's smile is unique, so some patients will need more time, and some will need less. Therefore, only your dentist can give you an exact timeframe.
Your Role in Your Invisalign Timeline
To stay on track with your Invisalign timeline, you'll need to be proactive about your treatment. Your dentist will supervise your progress, so it's important to follow their instructions as closely as possible. You can also prevent your treatment time from lengthening by:
Attending all of your regular checkups and follow-up appointments
Wearing your trays as often as directed – usually 22+ hours per day
Practicing proper oral hygiene
Keeping your aligners in good condition by cleaning them daily
Starting Invisalign treatment is a great way to get a confident smile you can be proud of. If you follow your dentist's guidelines, you might achieve your dream smile by this time next year!
About the Author
Dr. Ronan Freyne achieved his Doctor of Dental Medicine degree from the University of Medicine and Dentistry of New Jersey. Since then, he has undergone advanced training in multiple dental specialties, including Invisalign clear braces. He believes in establishing lasting relationships with patients so that he can deliver the most personalized care possible. If you're interested in finding out how long your Invisalign treatment will take, you can visit Dr. Freyne's website or call his dental office in Chevy Chase, MD at (301) 986-0700.
Comments Off

on How Long Does Invisalign Treatment Take?
No Comments
No comments yet.
RSS feed for comments on this post.
Sorry, the comment form is closed at this time.