December 12, 2020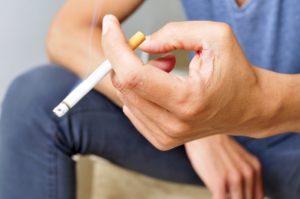 If you've decided to replace your missing teeth with dental implants in Chevy Chase, you've made an excellent choice for your oral health and quality of life. As the most reliable option to treat tooth loss, your new smile has the potential to last for decades with the right aftercare. Although it's rare, there are factors that can increase your risk of dental implant failure. Here are 5 bad habits you'll want to break to protect your investment from any unnecessary complications.
1. Skipping Daily Flossing
Peri-implantitis is a preventable infection that can lead to dental implant failure. Besides brushing twice daily, it's important you floss every night because there are areas in your mouth where your toothbrush can't reach, like around the abutments and posts of implants. Daily flossing removes plaque and tartar buildup to stop an infection.
2. Smoking
Smoking hinders your body's ability to heal and fight infections. Not only can using tobacco cause complications after your placement surgery, but long after you've healed as well. Your risk of dental implant failure can increase by as much as 3 times if you continue to smoke. You'll want kick the habit right away to preserve your new smile.
3. Biting Inedible Objects
Many people have a nervous habit of chewing on their nails or pencils, but your natural teeth and dental implants aren't designed to bite on inedible objects. Your dentist recommends keep anything that isn't food out of your mouth, including your fingernails, pens, and ice cubes. If you can't avoid gnawing during stressful situations, chew a piece of sugarless gum.
4. Using Your Teeth as Tools
If you need to open a package or a bottle, your teeth can come in handy. Although it might be convenient, using your teeth as tools can lead to dental emergencies and implant failure. It's best to take a couple of extra minutes to find the right tool for the job to protect your smile from injury.
5. Skipping Dental Appointments
Even if you've lost all your natural teeth, you still need to visit your dentist in Chevy Chase at least twice a year for a cleaning and checkup. Your dental hygienist will remove any accumulations left behind by your toothbrush and floss. Your dentist will check your dental implants to ensure there aren't any concerning issues, like redness or inflammation.
Protect Your Investment
Dental implants are a lifelong commitment. A proactive approach to protecting them will ensure your new smile thrives for decades. You'll enjoy a permanent solution to replace your missing teeth.
About Dr. Ronan Freyne
Dr. Freyne earned his dental degree from the University of Medicine and Dentistry of New Jersey. He has completed extensive training in many specialties, like dental implants. He uses his advanced training with elite technology to ensure the success of implant prosthetics. If you're interested in treating your tooth loss, contact our office today to schedule your consultation.
Comments Off

on 5 Bad Habits to Break with Dental Implants
No Comments
No comments yet.
RSS feed for comments on this post.
Sorry, the comment form is closed at this time.