November 14, 2020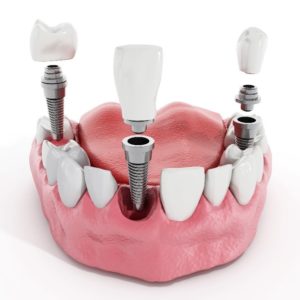 Despite the latest advancements in modern dentistry, tooth loss is a common problem. If you have lost a tooth, a dental implant is the most reliable solution to replace it. Although it is the most successful option, the outcome wasn't always so promising. Dental implant technology in Chevy Chase has changed quite a bit over the years. Here are the top 3 innovations that have enhanced the treatment.
1. Computer-Designed Implants
The long-term success of dental implants relies on your jawbone fusing to the posts. As a result, you'll undergo a thorough consultation, which includes a CT scan to ensure your bone can support your implants. To promote the success of the treatment, your dentist will use CAD/CAM technology to replicate your missing teeth.
It creates your tooth's natural structure, allowing it to be placed into your mouth almost immediately. It provides an effective and efficient option to restore a complete smile. Your dental implants are carefully crafted to match the appearance of your real teeth to blend in seamlessly when you smile.
2. Antibacterial Coating
One of the biggest threats to the longevity of a dental implant is infection. To help minimize the risk, a dental implant can have an antibacterial coating. Although the technology is relatively new, it shows promising results against harmful bacteria in the mouth that can lead to infection or damage the dental implant.
Your mouth is always under attack by bacteria that can erode enamel and infect gum tissue. Besides your natural tissues, the bacteria can also harm your dental implants. The antibacterial coating will help neutralize the invaders to ensure your new smile thrives.
3. CT Cone Beam Scanner
The CT cone beam scanner is crucial to the success of your new smile. The scan is used to determine your candidacy for dental implants because it allows your dentist in Chevy Chase to see your oral structures in their entirety, including your jawbone. They can detect any issues that might pose a concern, like infection or bone loss.
In addition, the scan is vital to creating a treatment plan. It allows your dentist to pinpoint the precise location for your implant posts. This ensures accurate tooth replacement with minimal complications, like avoiding nerve pathways.
Choose a Successful Solution
Dental implants have over a 95% success rate to last for decades with the right aftercare, like maintaining your oral hygiene and visiting your dentist regularly. Although implant failure is rare, it's often caused by a preventable infection called peri-implantitis. You can protect your new smile from failure by committing to your oral hygiene.
If you're ready to replace your missing teeth, don't settle for anything less than the best. Choose the more predictable solution for tooth loss using proven technology.
About Dr. Ronan Freyne
Dr. Freyne earned his dental degree at the University of Medicine and Dentistry of New Jersey. He regularly continues his training to provide specialty services, like dental implants. If you're ready to treat your missing teeth, contact our office today to schedule an appointment.
Comments Off

on 3 of the Latest Dental Implant Innovations
No Comments
No comments yet.
RSS feed for comments on this post.
Sorry, the comment form is closed at this time.