October 24, 2020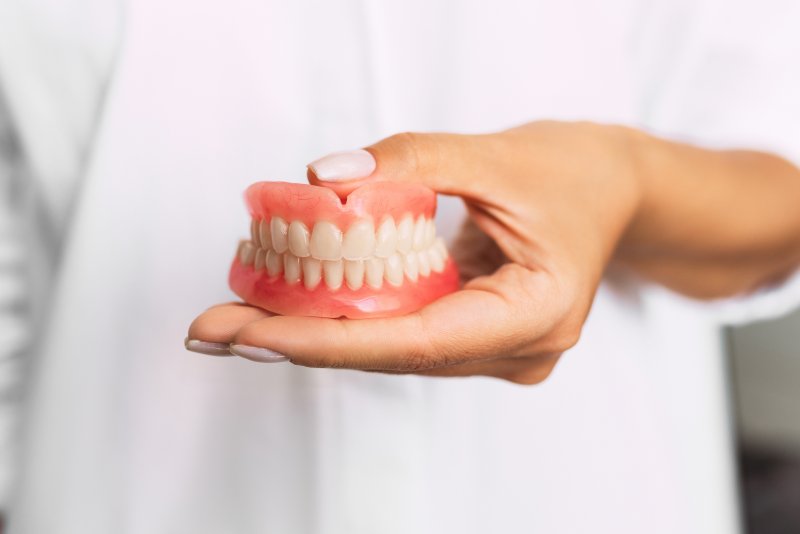 Dentures are a very popular tooth replacement option and can be lifechanging for people who are missing most of or all of their teeth. However, over time the structure of your mouth can change, and your dentures won't fit quite like they used to when you first got them. There are some signs to look out for so that you know when it's time to bring in your dentures in Chevy Chase to be looked at by your dentist. Continue reading to learn what those are and the different options you have.
Signs of Ill-Fitting Dentures
Broken Teeth
If you dropped your dentures or put too much pressure on them, it's possible for you to break a tooth. You shouldn't try to fix this yourself with a household adhesive or over-the-counter repair kit. This can cause issues in the future. Take them to your dentist instead so they can take a look.
Uncomfortable
Your dentures may not feel as comfortable as your natural teeth, but if they are causing you discomfort, you should bring this up to your dentist. If you have sharp or intense pain on or near your canine teeth, this could indicate bone reabsorption.
Difficulty Chewing
The main reason that people get false teeth, other than improving appearance, is to help them eat. If you notice that you're struggling more and more to chew with your dentures, your dentist should take a look at them. This could indicate that they aren't fitting your gums properly.
Chips or Cracks
If you have chips, pitting, or cracks, this can create sharp, uneven surfaces that can irritate or cut your oral soft tissues. These should me repaired so they don't become worse over time.
Pressure Sores
These can develop if your dentists are not well-fitted for your mouth. They will occur in areas where the denture is putting more pressure on certain areas of the gums. Your denture should instead be distributed evenly.
Gum Irritation
Once you've acclimated to your dentures, they should not be causing gum irritation. Look out for raw spots, inflammation, and bleeding. This could indicate a defect in the surface of the denture
Ill-Fitting Denture Solutions
Reline: This involves replacing the lining of the denture base. This will work wonders if you are dealing with gum irritation.
Rebase: A reline isn't always enough. Putting a new base on the denture helps to refit it to the gums and eliminate fit problems. Sometimes, your dentist may recommend replacing both the base and the teeth.
Dental Implants: The best fix for stabilizing poorly fitting dentures would be to get dental implants in Chevy Chase. Not only will they hold your denture in place better, but it will also slow the rate that your jawbone is changing.
If you think your dentures aren't fitting as well as they could, take them to your dentist. They will be able to recommend a solution to help make your smile comfortable.
About the Author
After graduating from Georgetown University, Dr. Ronan Freyne earned his Doctor of Dental Medicine from the University of Medicine and Dentistry of New Jersey. He is a member of several professional organizations including the American Dental Association and the Academy of General Dentistry. For more information on dentures or to schedule an appointment, visit his website or call (301) 986-0700.
Comments Off

on How to Know If Your Dentures Are Ill-Fitting
No Comments
No comments yet.
RSS feed for comments on this post.
Sorry, the comment form is closed at this time.