September 17, 2020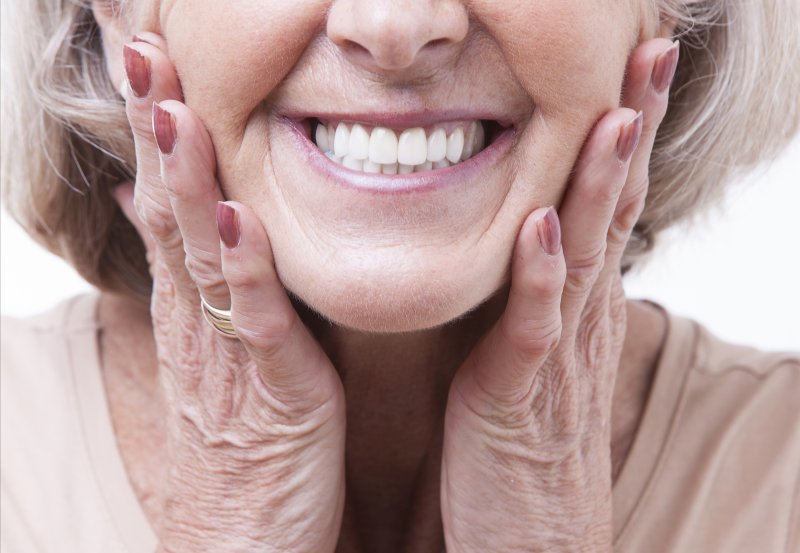 If you've struggled with tooth loss in the past, you should know that you aren't alone. Did you know that 178 million Americans are missing at least one tooth while 40 million are missing all of their teeth? This is a more widespread issue than many seem to believe. Fortunately, there are a variety of different lifechanging tooth replacement options that can restore your smile including dentures in Chevy Chase. Continue reading to learn about the benefits and if you would make a good candidate for this tooth replacement option.
What Are the Benefits of Dentures?
Dentures provide numerous benefits to patients who struggle with tooth loss. Here are just a few of them:
Removable: Depending on the type of denture you get, they can be removable. Many find the freedom of being able to take them out a benefit.
Support Facial Features: Dentures provide support for your facial features by preventing the side effect of missing teeth, like sunken-in cheeks.
Natural-Looking: Modern dentures are made from lightweight material and give you a natural-looking smile.
Affordable: Dentures are more affordable than other tooth replacement options like dental implants.
Who Makes a Good Candidate for Dentures?
An ideal candidate who could benefit from dentures is someone who has experienced significant tooth loss but still maintains healthy gum tissue and a sufficient jawbone. For someone who is only missing one or two teeth, a dental bridge or implant is likely a better option. In the end, the number of teeth you have lost will determines how ideal a full or partial denture will be for restoring your smile.
What Different Denture Options Are Available?
Not all dentures are the same. Depending on your individual needs and your smile goals, your dentist could recommend any of the following:
Partial Denture
If you have experienced significant tooth loss but still have some healthy teeth, your dentist may recommend a fixed or removable partial. A fixed partial is a single unit made of two crowns and a false tooth or teeth between them. The crowns are placed over your health teeth to keep the new ones in place. Removable partials consist of false teeth attached to a metal frame. This has either clips or brackets that hook onto healthy teeth to hold them into place.
Full Dentures
A full denture replaces an entire arch of missing teeth. This restoration is comprised of false teeth on an acrylic base. It is shaded to match your gums so you will have a natural-looking smile.
Implant-Retained Dentures
For additional stability, you could opt for an implant-retained denture. This involves securing a denture to your jawbone with about 4-8 dental implants. These implants will fuse to the jawbone in a process known as osseointegration and provide a secure foundation for your denture.
Ultimately, it is up to you and your dentist in Chevy Chase to decide whether or not dentures are right for you. Ask them if you would make a good candidate. You will have your smile back in no time!
About the Author
After graduating from Georgetown University, Dr. Ronan Freyne attended the University of Medicine and Dentistry of New Jersey where he earned his Doctor of Dental Medicine. He continues to participate in continuing education courses to stay abreast of advances in the field. Dr. Freyne offers dentures as a tooth replacement option. For more information or to schedule a consultation, visit his website or call (301) 986-0700.
Comments Off

on Are Dentures the Best Tooth Replacement Option for Me?
No Comments
No comments yet.
RSS feed for comments on this post.
Sorry, the comment form is closed at this time.