July 16, 2020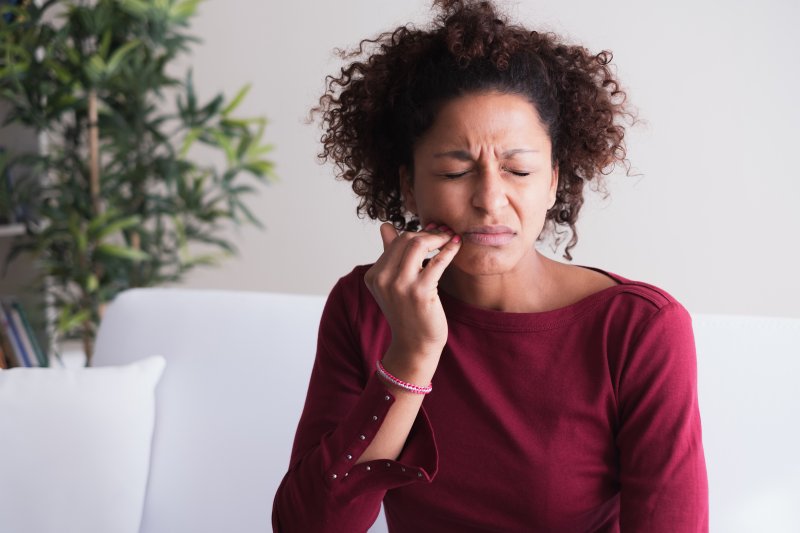 Do you have a toothache that just won't go away? Often times, this is an indication that you should be seeing an emergency dentist. Tooth pain is something that shouldn't be taken lightly and cannot always be solved by a home remedy. Continue reading to learn about seven different symptoms of tooth pain in Chevy Chase that could require a trip to the dentist.
Sensitivity
If you have increased sensitivity, this could be indicating all sorts of problems. If your teeth are achy, you could be suffering from bruxism (teeth grinding). Other causes of sensitivity could be a cavity or abscessed tooth. Both of these require emergency dental care.
Swollen Glands
If you notice inflammation around your neck and jaw coupled with a toothache, you should seek emergency care immediately. This could indicate that you have an infected tooth. When the infection spreads, you may experience this type of inflammation and your vital organs could be at risk.
Loose Teeth
Most of the time, a loose tooth is an indication that you're experiencing an advanced stage of periodontitis. If it progresses to the point where your teeth are loose, the disease could be irreversible. Seeking emergency dental treatment is still important so the disease doesn't progress any further and results in the total loss of your teeth.
Bleeding or Swollen Gums
Even though bleeding and inflammation happens from time to time, if it is frequent and accompanied by a toothache, you should see your emergency dentist. This is also a sign that you could have gum disease. When it is caught and treated early on, you can restore your smile back to health.
Bad Breath or Bad Taste
Bad breath, a bad taste, and a toothache together is a sign that you could have an abscessed tooth. You should see your dentist immediately to be treated.
Discoloration
Yellowing of the teeth can happen over time and isn't usually considered an emergency. However, if a particular tooth begins changing in color from yellow to dark brown or gray, this could be a sign of infection.
Sharp Pain
Having severe pain in your mouth is never normal and is an indication that something isn't right. It could indicate anything from a cavity to an abscessed tooth depending on the severity. If you are experiencing extreme tooth pain, it's time to call your emergency dentist in Chevy Chase.
When you have a dental emergency like a toothache, don't panic. Give your dentist a call and together, you can get to the root of the problem. You'll be back on your feet soon!
About the Author
Dr. Ronan Freyne is an emergency dentist located in Chevy Chase, MD. He earned his Doctor of Dental Medicine from the University of Medicine and Dentistry of New Jersey. He's a member of several professional organizations including the American Dental Association and the Academy of General Dentistry. If you think you're experiencing a dental emergency, Dr. Freyne would be happy to help. For more information or to schedule an appointment, visit his website or call (301) 986-0700.
Comments Off

on 7 Different Types of Tooth Pain That Should Be Monitored by Your Emergency Dentist
No Comments
No comments yet.
RSS feed for comments on this post.
Sorry, the comment form is closed at this time.