June 25, 2020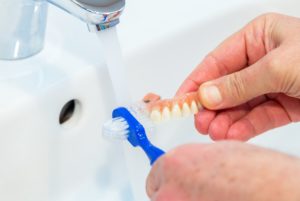 If you've experienced significant tooth loss, dentures in Chevy Chase are a convenient and effective solution to rebuild your smile. Although they have a bad reputation for looking and feeling fake, they are more realistic than ever thanks to new innovations in dentistry. Your denture can last for an average of 5 to 7 years before needing to be replaced. You can protect your investment by caring for your dentures at home using these 6 simple tips.
Caring for Your Dentures
Caring for your dentures each day is essential to ensuring their longevity. Not to mention, it's also necessary for your oral health. You can keep your mouth healthy and protect your dentures by:
Handling Your Dentures with Care
Dentures are durable, allowing them to withstand the pressure of regular chewing; however, they can break. You can prevent accidental damage by handling your dentures carefully. It's best to place a folded towel on the counter and sink to provide a layer of protection if you drop them.
Brushing and Rinsing Your Dentures
Although your dentures aren't subject to decay, you still need to brush them daily to prevent stains and unpleasant odors. Use a soft-bristled toothbrush and a clear hand soap to clean all surfaces of your dentures. Don't use toothpaste or a brush with hard bristles, which can cause small scratches.
It's best to rinse your dentures after every meal to prevent food particles and plaque from lingering on your smile.
When your dentures aren't in your mouth, it's best to store them correctly in a special solution. Your dentures must be kept moist to maintain their shape. If they dry out, they can warp. Be sure to use one that's made for dentures to avoid damaging them.
Don't use hot water to clean your dentures or expose them to excessive heat. This can cause them to warp, creating an improper fit and increasing your risk of a fracture.
Visiting Your Dentist Regularly
Even if you don't have any natural teeth remaining, it's important to visit your dentist in Chevy Chase at least twice a year. This allows them to monitor your oral health while also providing the maintenance your dentures need.
When Do My Dentures Need to be Replaced?
Even with the best care, your dentures will need to be replaced over time because your gums, jaw, and face will change shape. This can lead to slipping and irritation. If your dentures aren't fitting as well as before, it's time to visit your dentist for adjustments or a replacement.
About Dr. Ronan Freyne
Dr. Ronan Freyne is committed to providing high-quality dental care from a relaxed environment. He has the training and qualifications to treat even the most complex issues, like tooth loss. As a member of the American Dental Association and the Academy of General Dentistry, you can feel at ease knowing your smile is in good hands. If you need dentures or it's time to have them replaced, contact our office today.
Comments Off

on 6 Tips for Caring for Your Dentures
No Comments
No comments yet.
RSS feed for comments on this post.
Sorry, the comment form is closed at this time.