January 13, 2020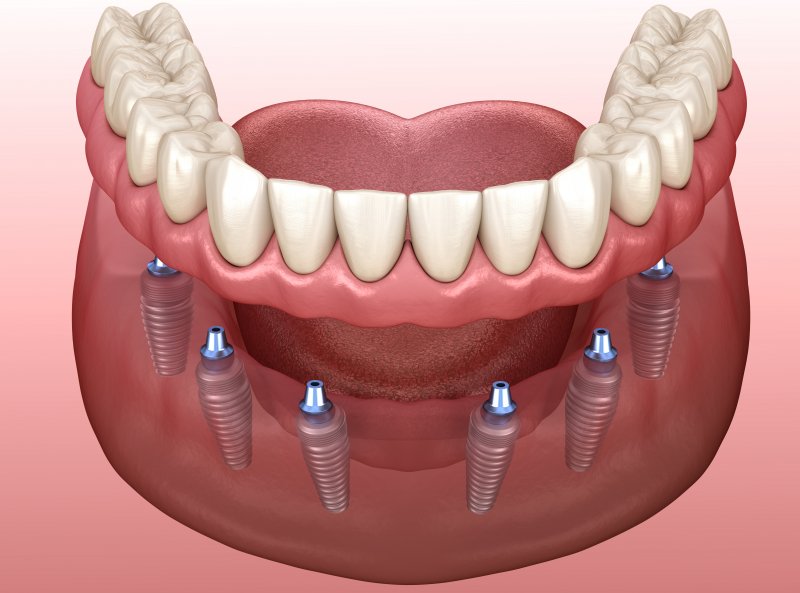 If you have missing teeth along the bottom or top row of your mouth, you're probably looking for the best option to restore your smile. Depending on your individual needs and wants, either dentures or dental implants in Chevy Chase will most likely be right for you, but how do you know? To help you identify which solution will give you the results you desire, let a dental professional offer some valuable insight to help you make your decision.
What Are Dentures?
Dentures are prosthetics used to replace an entire arch of teeth either on the top or bottom row of your mouth. Crafted with a gum-colored base, artificial teeth are positioned into the acrylic to create a lifelike, natural restoration. They sit on top of the gums and use your natural suction to hold them in place. Some patients prefer the additional security of dental adhesive when wearing dentures.
What Are Dental Implants?
Dental implants are titanium posts that are surgically placed into your jawbone. They mimic your natural tooth root to provide continued stimulation to your jawbone, preventing deterioration or weakening over time. The implant consists of three parts: the post, metal abutment, and custom-made restoration. Should you require implant-retained dentures, anywhere from 4 to 6 implants will be put into place before a customized denture is secured into place on top of the posts.
Which One is Right For You?
To answer this question, it is appropriate that you think about what you truly want out of your new and improved smile. What factors are most important to you and which ones are you willing to consider as less important? In order to generate a list of pros and cons for each, here are a few things you should consider when determining how best to replace your missing teeth:
Longevity: How long do you want your restoration to last? With dentures, you may be fortunate enough to maintain them for a decade with proper care and maintenance; however, they are not meant to last forever and often require frequent relining and adjusting. Dental implants, on the other hand, have been reported to last a lifetime. While the restoration on top will need to be replaced over time, the post can remain intact and in place for decades or longer.
Functionality: Dental implants look and feel like regular teeth, so you don't have to forgo the foods you love when eating. Patients with implants are able to speak clearly and eat without feeling as if their teeth will become loose or fall out. With dentures, eating can be a bit difficult, often requiring you to cut up larger pieces for easier consumption or simply avoiding certain foods altogether.
Cost-Effectiveness: It's no secret that dentures are much less expensive than dental implants, but if you consider the money it takes for relining, readjusting, and replacing your dentures over your life, dental implants prove to be a more cost-effective solution.
Dentures continue to remain a tried and true solution for patients with missing teeth, especially those who must factor cost above all else. But if you want a restoration that will allow you to live without worrying about accidental slippage and will give you the freedom to eat the foods you enjoy, dental implants prove to be the front-runner. Talk to your dentist in Chevy Chase today to find out if you are eligible for implants and what you can do to get started.
About the Author
Dr. Ronan Freyne attended Georgetown University for his undergraduate degrees before enrolling at the University of Medicine and Dentistry of New Jersey, earning a Doctor of Dental Medicine degree. Dr. Freyne stays abreast of all the latest dental technologies and current concepts of evidence-based medicine, so he can help his patients see improved, fully restored smiles. Whether through the use of dentures or dental implants, he and his team will work to identify which solution is right for someone with missing teeth. Contact us at (301) 986-0700 to find out how we can help you achieve a beautiful smile.
Comments Off

on Dentures or Implant-Retained Dentures: Which is Better?
No Comments
No comments yet.
RSS feed for comments on this post.
Sorry, the comment form is closed at this time.