August 13, 2019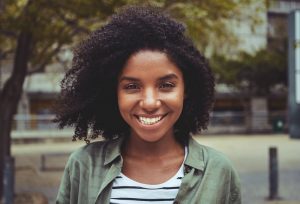 If you catch a glimpse of your smile in the mirror and your confidence suddenly plummets, it's time to do something about it. With a variety of cosmetic dental treatments at your fingertips, it can be hard to tell which option would be best for you. If you have damaged or misaligned teeth that are distracting from your otherwise beautiful grin, direct bonding or porcelain veneers in Chevy Chase may be the best choice for you. Read on to learn what issues they can fix and how they can improve your smile.
What is Dental Bonding?
Dental bonding is a fast and cost-effective choice if you're looking to fix minor flaws. Your cosmetic dentist in Chevy Chase will match the shade of your natural teeth with a composite resin made from fine acrylic and glass particles. It's a putty-like consistency, so they'll sculpt and mold it to resemble the damaged or missing portion of your tooth. They'll permanently bond the resin to your tooth by using a special curing light. After making final adjustments, you'll be able to enjoy a symmetrical and complete smile that looks completely natural.
How Can it Benefit Your Smile?
Cosmetic bonding is so popular among patients because the procedure is easy, fast, and won't break your monthly budget. With the proper at-home care and routine visits to your dentist, you can extend the life of your beautiful smile and even improve your oral health. Some additional benefits include:
Natural-looking
Long-lasting solution
Cost-effective
Completed in a single visit
Easy to maintain
Preserve the structure of your natural teeth
What are Porcelain Veneers?
Dental veneers are custom-crafted porcelain shells that are permanently placed over the visible portion of your natural teeth. They can conceal several cosmetic flaws such as misaligned, crowded, and gapped teeth as well as severe discoloration and dental damage. Because each veneer is custom-crafted to repair each tooth individually, the process takes a few weeks to complete because they're created in a dental laboratory.
How Can They Benefit Your Smile?
Porcelain veneers are a great choice for patients who need to repair several cosmetic flaws but don't want to get multiple different treatments. In only a few short weeks, your dentist can repair a single damaged tooth or your entire smile. Some additional benefits include:
Dental porcelain is gentle on the gums
Porcelain reflects light like tooth enamel, creating a natural appearance
Porcelain is non-porous and stain-resistant
The shade of brightness can be customized
They last up to 15 years with the proper care
Both cosmetic bonding and porcelain veneers are permanent procedures that can repair several flaws that make your smile appear unattractive. To find out which option is the best for you, schedule a consultation with your cosmetic dentist. They can also answer any questions you may have so you feel comfortable and confident making the best decision for your mouth.
About the Author
Dr. Ronan Freyne strives to give his patients the best quality of comprehensive dental care. He offers a wide variety of cosmetic procedures like Lumineers, porcelain veneers, and dental bonding. He has completed a general practice residency at Mountainside Hospital in New Jersey and stays up-to-date with the latest dental advancements by taking continuing education courses. For questions or to schedule a consultation, visit his website or call 301-986-0700.
Comments Off

on Which Cosmetic Treatment is Right For You?
No Comments
No comments yet.
RSS feed for comments on this post.
Sorry, the comment form is closed at this time.