April 9, 2019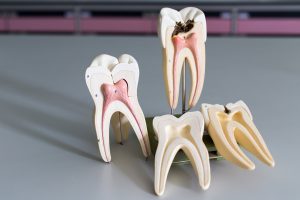 Root canal therapy is often the butt of jokes and can be a major source of anxiety for individuals suffering from the pain caused by damaged or infected teeth. However, thanks to advances in modern dentistry and the effective use of local anesthesia, getting a root canal today is no more unpleasant than routine dental work. Not convinced? Below, a dentist in Chevy Chase dispels some of the most common myths about root canal therapy.
Myth #1: Root Canals are Only Necessary if You are Feeling Dental Pain
It may not be obvious when you have a tooth that requires root canal therapy. Teeth that are damaged or infected may not always cause severe pain, but they still need to be treated. Your dentist can perform several tests to see if a tooth's pulp is damaged or infected, including:
Temperature testing – The application of hot or cold stimuli to the tooth
Bite test – Patient is asked to bite on a hard object, such as a toothpick
Electric pulp testing (EPT) – The application of an electric current to the tooth in order to elicit a neurological response
If your tooth is indeed dead or on its way, you will need a root canal – even if the tooth does not hurt. Without treatment, the infection could worsen and spread to nearby tissues.
Myth #2: Root Canals Cause Extreme Pain
Most damaged or infected teeth, of course, do cause pain – and a lot of it! People often associate getting a root canal with pain, but the dental pain is in fact caused by the infected or damaged tooth, not the treatment. Root canal therapy is actually designed to eliminate dental pain and save your tooth.
The procedure itself is painless thanks to the use of local anesthetic. Indeed, according to the American Association of Endodontists, most patients feel little to no pain at all during root canal treatment.
Moreover, for patients who feel anxious about climbing into the dentist's chair for a root canal, nitrous oxide or another form of sedation dentistry is used to calm their nerves.
Myth #3: Root Canals Cause Serious Illnesses
A quick internet search can turn up information that contends root canal therapy is linked to serious health issues such as heart disease, kidney disease or arthritis.
However, these claims stem from poorly-designed research conducted 100 years ago and have since been thoroughly debunked.
You can rest easy: modern medicine has found no evidence that links root canal treatment to disease elsewhere in the body.
Myth #4: Pulling Infected Teeth is Better than Root Canal Therapy
Although there are many effective tooth replacement options these days – such as bridges, dentures or dental implants – saving your natural teeth, if possible, is always the best option. No artificial tooth replacement perfectly copies the true form and function of a natural tooth.
Root canal therapy has a high success rate and, with proper care and regular trips to the dentist for checkups, root-canal-treated teeth can last a lifetime.
Fact will always win out over fiction! Root canal therapy is an effective solution to relieve dental pain and save extremely damaged or infected teeth. If you are suffering from extreme dental discomfort, talk to a Chevy Chase dentist today about whether root canal therapy is right for you.
About the Author
Dr. Ronan Freyne strives to deliver high-quality individualized care that considers the unique preferences and dental needs of each patient. The proud Georgetown University graduate has completed courses in advanced comprehensive patient care to stay abreast of the latest in modern dental techniques and technology. If you are experiencing severe dental pain, visit Dr. Freyne's website or call 301-986-0700.
Comments Off

on Dentist in Chevy Chase 4 Dispels Common Root Canal Myths
No Comments
No comments yet.
RSS feed for comments on this post.
Sorry, the comment form is closed at this time.