January 21, 2019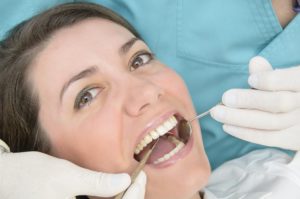 Does the thought of seeing your dentist in Chevy Chase fill you with unease? That's okay. Millions of Americans suffer from some degree of dental-related fear. The best way to deal with your concerns is to talk to your dentist about them. There's nothing like a little knowledge to inspire pace of mind.
Why Do Some People Fear the Dentist?
Most people suffer from phobias of one type or another. The causes vary as much as the object of the fear. When it comes to dental phobia, however, researchers have found a set of common characteristics that trigger the condition. These include:
The clinical nature of a dentist's office. People who are unaccustomed to medical environments may react with unease to the sterile setting, the site of metallic instruments, or the sound of the dental drill.
Fear of losing control. Receiving dental treatment requires putting yourself in the care of veritable strangers, which can be unpleasant for those dealing with past trauma.
Fear of pain or discomfort. Unfortunately, the Internet is filled with antiquated or inaccurate claims about dentists. People sometimes fall prey to hearsay or outright disinformation.
Rising Above Your Worries
Does any of this sound familiar? We're guessing that it does. The good news is that you can manage your fears and get the dental care you need. Here are some tips to help you along:
Talk to your dentist about your concerns ahead of time. As a trained medical professional, he or she is familiar with dental phobias and how to help patients overcome them.
Ask your dentist what to expect during your procedure. Knowing what's coming can relieve your anxiety and give you a greater sense of control.
Try systematic relaxation or meditation. Anxiety arises from complex and interrelated mental and physical cues. For example, fear causes us to become tense, which in turn makes us feel even more afraid. Learning to relax at will can inspire a sense of calmness and confidence instead.
Is Sedation Dentistry the Solution You're Looking for?
One way to deal with dental phobia is to simply sleep through the whole procedure. If that sounds like the solution to your problems, then sedation dentistry may be right for you. Here are some sedative options to consider:
Nitrous oxide. Also known as "laughing gas," this medication has been used for decades to help patients relax. It's a mild form of sedation that wears off soon after treatment.
Oral sedation. Your dentist will ask you to take a tablet an hour or so before your procedure is scheduled. By the time of treatment you will be in a deep state of relaxation, possibly asleep. You will need someone to take you home afterward.
IV sedation. This option is typically reserved for advanced procedures that last for more than an hour. You will be in a deep sleep throughout treatment. Typically the effects take 24-48 hours to wear off completely.
Don't let fear keep you from getting the dental care you need. Talk to your Chevy Chase dentist about the options discussed in this post. After your appointment is over, you'll look back with well-deserved pride at taking this important step.
About the Author
Dr. Ronan Freyne is known for both his advanced dental expertise and his gentle, caring approach to each and every patient. Dr. Freyne will work with you to ensure a comfortable, effective treatment experience. Dr. Freyne earned his DDS degree from the University of Medicine and Dentistry of New Jersey. You can reach his office online or by calling (301) 986-0700.
Comments Off

on Why Your Dentist in Chevy Chase Is No One to Fear
No Comments
No comments yet.
RSS feed for comments on this post.
Sorry, the comment form is closed at this time.