November 11, 2018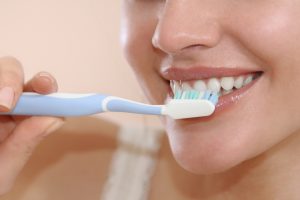 When it comes to maintaining your oral health, one of the key contributors is your toothbrush. For it to remain effective, though, requires that it be cared for properly. That includes knowing when to replace the toothbrush, how to store it correctly and other factors that you'll learn about from your dentist in Chevy Chase.
Why is the Toothbrush So Important?
The proper use of a toothbrush plays a significant role in the removal of harmful bacteria and leftover particles that can cling to your teeth after a meal and attract bacteria. As the latter accumulate, they can form a super-structure called plaque (a clear, sticky substance) that releases acids that bore holes into the enamel (the hard, outer surface of the teeth).
When a toothbrush is used along with an American Dental Association (ADA) approved toothpaste, a great percentage of the debris that can lead to oral health issues can be removed. Still, the toothbrush requires the right type of care to provide the protection you need.
How to Care for Your Toothbrush
The maintenance of your toothbrush is very simple and includes the following steps:
Replacement – As a general rule of thumb, you should replace your toothbrush every three to four months to prevent the accumulation of bacteria on the bristles. However, if you are ill, you should replace the toothbrush immediately to avoid re-infecting yourself.
Rinsing – After usage, be sure to rinse your toothbrush with tap water and allow it to air dry. This is done to prevent bacteria from gathering.
Storage – Your toothbrush should be stored in an upright position, allowing the water to drain after usage. This also aids in the prevention of bacteria buildup.
Maximizing Your Oral Hygiene
When you care for your toothbrush correctly and take the time to effectively utilize it to keep your mouth, teeth and gums clean, you are taking a proactive stance against issues like cavity development, gum disease and tooth loss.
In addition to your oral hygiene efforts, visiting your Chevy Chase dentist for preventive care plays an integral role in maintaining your oral health and the aesthetics of your smile. While you're there, you'll also be able to ask any questions you may have about ways to maximize your dental care.
The process starts by simply reaching out to schedule a visit today!
About the Author
Since graduating from the University of Medicine and Dentistry of New Jersey, Dr. Ronan Freyne has remained committed to providing patients with the absolute best in dental care. To aid in his quest, he has taken several hours of continuing education, and he also founded the Millennium Dental Study Club to further the pursuit of knowledge about the vast world of dentistry. Dr. Freyne helps patients maximize their dental care at his private practice, and he can be reached for more information through his website.
Comments Off

on Your Dentist in Chevy Chase Explains How to Care for Your Toothbrush
No Comments
No comments yet.
RSS feed for comments on this post.
Sorry, the comment form is closed at this time.