August 19, 2018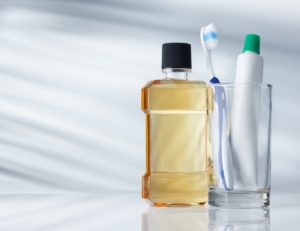 When you're shopping for meat or dairy products at your local grocer, it's common to check the expiration date to make sure that you and your family don't get sick from consuming them. Have you ever wondered about the expiration date on your oral hygiene products, though? If so, then your dentist in Chevy Chase has some helpful information that will help you select the right products and know when it's time to go shopping for replacements.
Toothpaste
It's best to use toothpaste within two years of the manufacture date. If you make a mistake and use an outdated supply, it's nothing to be alarmed about. It doesn't cause any adverse physical effects. Take note, though, that it won't have the same potency as a fresh tube of toothpaste. This is because the fluoride begins to fade after a certain amount of time.
Floss
Keeping a fresh supply of floss is just as important as your toothpaste. That's because flossing your teeth is equally as important as brushing because it addresses the remaining 40% that your toothbrush can't clean. One of the perks of using dental floss is that its effectiveness is long-lasting. However, flavoring agents in certain flosses will fade after about a year.
Toothbrush
The toothbrush is the cornerstone of your oral hygiene routine. Thus, it's important to keep it clean. Over time, bacteria collect on and between the bristles and then soil your teeth and gums.
To prevent this from happening, be sure to discard your current one every 60 to 90 days. If, however, you are ill before that period transpires, you should toss your toothbrush for a new one. Using the same one could possibly re-infect you.
Mouthwash
One of the more convenient ways to enhance your oral hygiene is by rinsing with a mouthwash. It helps to flush away bacteria and leftover food particles, and it freshens your breath.
You can use it up to two to three years beyond the manufacturer's date. After this point, the antiseptic begins to dissolve. This leaves a watery and ineffective solution.
By putting the above information to use, you can enjoy more effective dental hygiene, prevent any unnecessary bacteria growth and protect your smile. The next step in the equation is to maintain regular visits to your family dentist in Chevy Chase for cleanings and examinations. These appointments will further ensure that you experience the absolute best oral health.
About the Author
Dr. Ronan Freyne earned his dental degree from the University of Medicine and Dentistry of New Jersey. He's since gone on to further hone his skills through continuing education courses. Additionally, Dr. Freyne stays abreast of the latest changes in the world of dentistry by maintaining membership in several professional organizations. He helps patients experience the best in oral health at his private practice and can be reached for more information through his website.
Comments Off

on Your Dentist in Chevy Chase Says Fresh is Best with Dental Products
No Comments
No comments yet.
RSS feed for comments on this post.
Sorry, the comment form is closed at this time.