July 29, 2018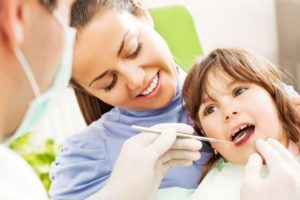 When it comes to your loved ones, they deserve to benefit from the best. To promote generations of healthy smiles, their dental care should match your expectations. To ensure that they get the care that they need, it is best to choose a dentist in Chevy Chase who can cater to everyone—no matter their age. With one dentist by your family's side, you will benefit from a higher level of care while also making the services you need convenient.

Save Time with One Location
When raising a family, your schedule is busy. You do not have the time to run to different dental locations for each age group in your home. With a Chevy Chase dentist who sees families, everyone can have their needs met from one location. This makes scheduling appointments easy to maintain their oral health while accommodating your daily responsibilities.
Enjoy a Higher Level of Care
In addition to your oral hygiene habits and lifestyle factors, genetics plays an important role in your family's dental health. By seeing one dentist, they will have a deeper understanding of how your family history can impact the young smiles in your home. As a result, they can provide early intervention if certain dental problems run in your family, like gum disease, weakened enamel, and alignment concerns.
This information is important for maintaining the health of your child's smile. It can provide for earlier detection to save them the need for a costly or invasive treatment in the future.
Build Trusted Relationships
To foster a lifelong commitment to dental health, you can ensure that your child establishes a trusted relationship with their dentist. Instead of seeing one for just a few years, they can see the same one as they become teenagers and even adults. By already having an established relationship with a dental team, they are more likely to maintain their dental health as they grow.
Maintain Dental Records
When your family visits one dentist, this makes it easy to keep track of their dental records. They will all be stored at one location to allow for easy reference when monitoring changes to their dental health, for insurance purposes, or when moving to a new location.
Benefit from a Family Dentist Today!
With your family's dental health directly linked to their general well-being, give them the best foundation possible for a healthy mouth and body. Choose a family dentist in the area who can meet the needs of everyone in your home.
About Dr. Ronan Freyne
Dr. Ronan Freyne is passionate about delivering the highest quality dental care possible in an environment that caters to families. He treats patients of all ages to build generations of healthy smiles. In addition to preventive care, he offers the services that are necessary through all stages of life to keep all your needs met from one location. If you need a family dentist in the area for preventive, restorative, and cosmetic dentistry, it is time to schedule your first visit with Dr. Freyne.
Comments Off

on Discover the Benefits of a Family Dentist in Chevy Chase
No Comments
No comments yet.
RSS feed for comments on this post.
Sorry, the comment form is closed at this time.