July 7, 2018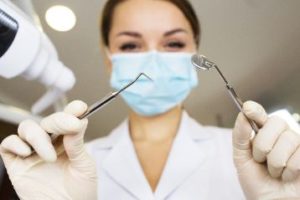 It's one of those paradoxes in life that the best way to see a dentist less…is actually to go more! That sounds confusing at first, but it makes more sense when you realize how regular checkups prevent more serious problems with your oral health later on. Many people only think of their checkups as an opportunity to get a cleaning, but there's so much more that happens at your visits with a Chevy Chase dentist! Find out more in this blog about the power of prevention and how it saves you both money and time in the long run!
How Do Your Checkups Prevent Bigger Problems?
In many ways, you can think of maintaining your smile the same way you think of maintaining your car. You would never dream of skipping oil changes and tire rotations, right? Everyone knows that's a sure way of running into expensive or even dangerous situations down the road!
Seeing a 'dentist near me' every six months is just as important for your oral health as maintenance work is for your car. For example, small cavities or cracks in your teeth are much easier, less painful and less expensive to take care of early on than when they've become bigger.
What Is Included In Every Checkup?
Here's an overview of what's included at each checkup. Each part of your visit is important to monitor your overall oral health and catch any potential problems as early as possible:
Oral cancer screening – Unfortunately, oral cancer has been on the rise in recent years. That's why both your hygienist and dentist spend time looking at your lips, tongue, cheeks and throat to see if there are any suspicious lumps, bumps or lesions. As with all cancers, early detection is the key to successful outcomes.
Annual X-rays – This diagnostic tool allows dentists to see small cavities that you might not be feeling yet so they can be fixed with small fillings instead of bigger procedures like dental crowns.
Gum disease screening – Gum disease is one of the leading causes of tooth loss, but it can be well managed with regular dental care to prevent that from happening.
Professional cleaning – No matter how well you brush and floss, you can't remove the hard, cement-like deposits of tartar that contribute to gum disease and bad breath. Regular cleanings also keep your smile pearly-white and looking its best.
Dental Exam – Finally, a dentist in Chevy Chase always reviews your updated medical history and closely examines every part of your teeth, gums and soft tissues. They also answer any questions you may have so you can stay well informed about your oral health.
Remember, the old saying, "An ounce of prevention is worth a pound of cure" is never truer than when it comes to your oral health!
About the Author
Dr. Ronan Freyne is a general, cosmetic and restorative dentist who focuses on prevention first, treatment second. He always encourages his patients to come in for regular checkups so he can keep a close eye on their oral health and prevent the need for extensive dental work as much as possible. If you have any questions, he can be contacted via his website or at (301) 986-0700.
Comments Off

on Chevy Chase Dentist Talks About the Power of Prevention!
No Comments
No comments yet.
RSS feed for comments on this post.
Sorry, the comment form is closed at this time.