May 16, 2018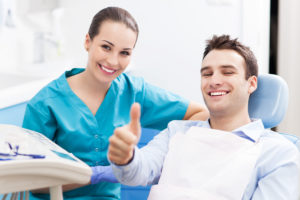 Fluoride is a nutrient essential for the development and maintenance of healthy teeth. As your teeth from below the gum line, ingested fluoride helps to ensure your tooth enamel is dense and durable. Patients can receive ingested fluoride from a variety of sources, including tap water, certain vegetables, and supplements. Once teeth erupt from the gum line, topical fluoride helps to keep your smile strong, healthy, and free from decay. Patients receive topical fluoride through daily brushing with fluoridated toothpaste and the use of certain oral rinses. Patients in need of extra fluoride may also want to receive professional topical fluoride applications, during their six month dental exams. In this post, we'll talk about 3 uses of fluoride treatment patients may need to keep their smiles whole and healthy.

1 – Fortify Tooth Enamel to Prevent Decay
The most common use for professional fluoride treatments is to strengthen tooth enamel and reduce risk for decay. These professional doses of fluoride dramatically improve the density of tooth enamel and decrease risk for cavities. This is especially beneficial for young patients who are still learning to care for their smiles, but adults who struggle with chronic tooth decay or have thinner tooth enamel can also benefit from these treatments.
2 – Create a Protective Barrier for Patients with Dental Sensitivity
If you experience dental sensitivity when your teeth are exposed to hot or cold foods and beverages, topical fluoride applications can reduce this sensitivity, allowing you to eat and drink without experiencing pain. For many patients with dental sensitivity, topical applications during six month dental exams are adequate, but others may receive prescription toothpastes or fluoride gels to use at home.
3 – Avoid Dental Sensitivity Following Teeth Whitening
Following professional teeth whitening in the dental office or at home, patients often struggle with dental sensitivity. Professional fluoride applications reduce risk for sensitivity following these cosmetic services. Fluoride can be provided during your in-office teeth whitening treatment, or an at-home fluoride gel may be prescribed to apply following your take-home teeth whitening applications.
Meet Dr. Freyne
Skilled Chevy Chase dentist, Ronan Freyne, DMD, offers patients a variety of preventive dentistry solutions to help them keep their smiles whole and healthy for life. During your regular six month dental checkups and teeth cleanings, Dr. Freyne and his dental care team can offer dental sealants, fluoride treatments, protective mouthguards, and other general dentistry services to ensure you maintain the healthiest smiles. If you want to learn more or you need to schedule an appointment in our Chevy Chase dentistry practice, call our friendly dental team today. We look forward to helping you with all of your smile goals.
Comments Off

on 3 Uses for Fluoride Treatment
No Comments
No comments yet.
RSS feed for comments on this post.
Sorry, the comment form is closed at this time.