April 11, 2018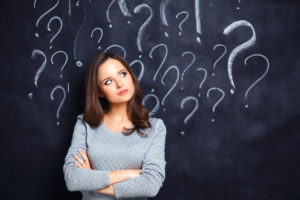 When it comes to caring for their smiles, patients have a lot of questions. The goal of every good dentist is to help patients better understand how to achieve their healthiest smiles and keep them healthy for life. That's why they're always happy to answer questions and provide educational resources to help patients get the care they need in our office and at home. In this post, we'll answer some of those questions we hear most often from our patients to help you learn more about why preventive dentistry is so important.

1 – Why do I Have to Visit the Dentist Every Six Months?
By visiting the dentist for preventive appointments, you're more likely to avoid the need for advanced dental care. During six month exams, your dentist will screen for warning signs of the most common oral health issues and help you keep your smile healthy for life.
2 – Why is Flossing Important?
When patients skip their daily flossing, the parts of their teeth that touch don't get cleaned. That means plaque can accumulate, and as soon as twelve hours after plaque attaches to teeth, it begins to harden into tartar. Sometimes called calculus, this hard deposit has to be removed by a professional, and it can lead to serious cases of tooth decay and gum disease.
3 – Should I be Using Mouthwash?
Mouthwash is not necessarily an essential part of your oral hygiene routine. However, it can be a great addition for many patients. Using a quality antimicrobial mouth rinse can limit the number of plaque producing bacteria in the mouth, reducing risk for gum disease and tooth decay. You can use oral rinses between meals to limit acid erosion that can occur after eating. Ask your dentist or hygienist to recommend a good mouthwash to boost your oral hygiene routine.
4 – What do I do for a Toothache?
If you're experiencing a toothache, call your dentist right away to schedule an emergency appointment. Toothaches can indicate a need for advanced restorative dentistry services like root canals. To relieve pain until you reach the dentist, take over the counter pain relievers as prescribed. You may also be able to use topical pain relievers available in local pharmacies to numb the tooth.
Meet Dr. Freyne
Ronan Freyne, DMD is a dedicated general dentist partnering with Chevy Chase dental patients to achieve and maintain healthy, happy smiles for a lifetime. With a focus on preventive care, Dr. Freyne creates custom dental care plans for every patient he treats. With the latest dental technologies and advanced training and education, Dr. Freyne and his dentistry team can also offer patients more advanced restorative and cosmetic dentistry services all under one roof. If you want to learn more, don't hesitate to call our team to schedule an appointment in our Chevy Chase dental office today. We look forward to seeing you soon.
Comments Off

on Answers to 4 Common Dental Questions
No Comments
No comments yet.
RSS feed for comments on this post.
Sorry, the comment form is closed at this time.