February 16, 2018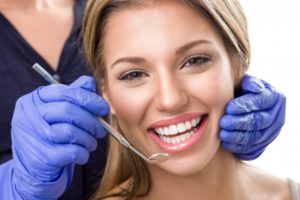 When you look scroll on your timeline, what do you see? The perfect images of people all over your phone, on the TV, and in the magazines. There's more pressure than ever to look your best in today's world—and when you don't you don't feel great about yourself. Unfortunately, too many people succumb to social pressures and overbleach their teeth, causing true dental problems.
Thankfully, your local cosmetic dentist offers a safe way to brighten teeth and improve your overall appearance safely with teeth whitening in Chevy Chase. Learn more about how to avoid overbleaching in this week's blog post.
Don't Risk Your Dental Health for Aesthetics!
Have you heard of the term "bleachaholic?" It describes the patient who's become obsessed with whitening their teeth—to the point where they could be damaging their teeth and gums.
Too much bleaching can cause your teeth to become super sensitive to outside stimuli like hot and cold drinks, causing unpleasant—and unnecessary—twinges of dental pain. Overbleaching can also cause your gums to recede and the enamel on your teeth to erode, which is critical to a long-lasting, healthy smile. There is no way of replacing tooth enamel, so it's important that if you're considering teeth whitening from a professional before you move forward with excessive bleaching at home.
Trust a Professional with Teeth Whitening
Teeth whitening by law can only be carried out by a regulated dental professional, such as a dental hygienist under the instruction of a dentist in Chevy Chase. Sure, there are over the counter products available at your local drugstore, but you'll never receive the whitening results that you're truly desiring.
The benefits of professional teeth whitening in our office are numerous. Some of them include…
Dramatic results—up to 8 shades of whiter teeth!
Professional-strength bleaching gel that's safely—and legally—monitored by a professional.
Special accommodations for tooth sensitivity, dental work, or other conditions that could affect your treatment.
Results that will last much longer than any other product on the general market.
Teeth Whitening from Your Dentist is Easy, Too!
If you want immediate results in just one day, in-office professional whitening treatments are your best option. Your local dentist uses a professional-grade, high quality whitening product, Kor teeth whitening, to help you achieve your desired results. You'll only have to visit us once to get the bright smile you want.
You can also have your teeth conveniently whitened in the comfort of your own home with professional-grade at-home teeth whitening kits personalized from your dentist. You'll pick up a set of custom whitening trays, high-quality whitening bleach, and detailed instructions from your dentist to follow. After just a few weeks, you'll notice the stains on your teeth being lifted, revealing your brightest smile!
If you're considering whitening your teeth, then get it done professionally. The results are far better and last longer, meaning you won't have to keep repeating the process at home yourself, and risk causing damage to your teeth and gums.
---
About Our Office
Your cosmetic dentist in Chevy Chase, Dr. Freyne, knows that a white smile isn't just about appearance—although it does give your look a youthful boost. Having a bright white smile will supercharge your confidence and we couldn't be happier to help you feel better about yourself. Call us today to schedule your next visit.
Comments Off

on Don't Overbleach! Just Try Safe Teeth Whitening in Chevy Chase.
No Comments
No comments yet.
RSS feed for comments on this post.
Sorry, the comment form is closed at this time.