January 15, 2018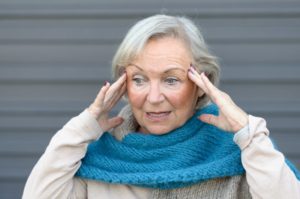 Unfortunately, you live in a compartmentalized world. Everything has to be categorized or labeled to identify it. In some regards, this is great. It makes for a more ordered and stable existence. But, there are other situations where an abundance of this type of thinking can be to your detriment. An example is with your oral health. It's easy to view it as just the wellness of your mouth, teeth and gums, but your dentist in Chevy Chase says that it's not isolated. It's part of a vast system that depends on its healthy existence, as reflected in the connection between gum disease and Alzheimer's disease. Learn more about what these two conditions have in common and how preventive dentistry can protect you from them.
What is Gum Disease?
Gum disease is a condition that arises from excess bacteria gathering on the teeth and gums. The bacteria accumulate due to poor oral hygiene. Here are its three stages:
Gingivitis – It begins as gingivitis, which includes symptoms of swollen, irritated, easy to bleed gums.
Gum Disease – Untreated, this leads to a phase where the bone and fibers that hold your teeth in place become permanently damaged.
Advanced Gum Disease – In its final stages, gum disease destroys the bone and fibers that bind your roots, allowing your teeth to move and sometimes fall out.
What is Alzheimer's Disease?
Alzheimer's disease is a neural-degenerative condition, where the faculties of your brain that control your long-term memory begin to fail. It is more common among older populations, but scientists have found other factors that encourage its early onset.
How Gum Disease May Encourage Alzheimer's
In a recent study, scientists found that 4 out of 10 patients with dementia (a degenerative brain condition linked with Alzheimer's) had traces of the same bacteria in their brain, that appears in the mouth when one has gum disease or poor oral hygiene. They would go on to determine that since bacteria can enter the bloodstream through everyday activities like eating, chewing and toothbrushing, the blood can carry the bacteria anywhere.
So they hypothesized that when the bacteria reaches the brain, it causes an immune system response, where your body attacks healthy cells in an attempt the rid itself of the infection. In doing this, though, the valuable synapses and other key components in the brain that help you remember things, are damaged, leading to Alzheimer's.
A Remedy
A way to protect yourself from this dreadful disease is to make a few, simple lifestyle changes:
Eat Healthy – Eating healthier foods encourage better oral hygiene by lessening the bacteria that live and grow in your mouth. It also will provide certain nutrients that help to fortify the brain like vitamin B, C and others.
Practicing Better Oral Hygiene – by brushing and flossing your teeth at least twice a day, you are actively working to reduce your chances of Alzheimer's disease, as well as protect the health of your mouth, teeth and gums.
Dental Visits – A final valuable weapon you have to fight gum and Alzheimer's diseases, is your dentist. Maintaining semi-annual visits for cleanings and examinations will allow him to monitor your progress and catch any budding issues before they become major problems.
You now have a way to enjoy excellent health for your whole body for years to come. Your overall wellness truly matters.
About the Author
Dr. Ronan Freyn earned his Doctor of Dental Medicine degree from the University of Medicine and Dentistry of New Jersey. He is a member of the American Dental Association and several other professional organizations. Dr. Freyne practices at Ronan Freyne DMD and can be reached for more information through his website.
Comments Off

on Dentist in Chevy Chase Says Gum and Alzheimer's Diseases are Linked
No Comments
No comments yet.
RSS feed for comments on this post.
Sorry, the comment form is closed at this time.