January 4, 2018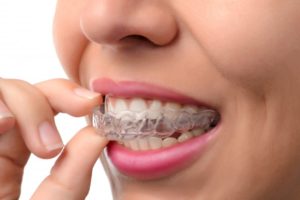 This is too good to be true! Get a perfect smile and a smaller waist all in one? Yes, it's for real. For years you've not only been struggling with your imperfect smile, but also, your stubborn weight. But through wondrous human ingenuity, a new diet system has risen from the most unusual of places – your dentist and the teeth-straightening method called Invisalign of Chevy Chase. Learn more about how you can experience a complete makeover.
What is Invisalign?
Invisalign clear aligners are alternatives to traditional braces, offering a way to correct crooked, misaligned or gapped teeth. Instead of going in once a month to your cosmetic dentist in Chevy Chase for an adjustment, you will be given all of your trays at once and will where each set for two weeks. After wearing them for that period of time, you will then discard them and move on to the next set in the series. All the while, your teeth will be adjusting, gradually and comfortably.
How Invisalign Aligners Help You Lose Weight
One of the requirements of wearing Invisalign aligners is that they must be removed before eating and drinking anything other than water. As it turns out, though, this rule of engagement is actually very beneficial.
Many people snack mindlessly and drink beverages that contribute a lot of empty calories to their daily intake tally. The calories of junk food and sugary drinks are considered empty because they offer no nutritional value yet are calorically dense, and stretch your waistline in ways you don't appreciate.
The logic then, with the Invisalign approach, is that sense your aligners have to be removed before you can eat, you'll forgo the hassle of pulling them out, rinsing and soaking them, just for a snack. And we all know how little harmless snacks can become your worst enemies.
So if you're a person who's struggled with grazing in the past, this is a simple way to cut out those detrimental munch sessions that could be adding hundreds of extra calories to your daily intake.
The same logic applies for sugary beverages like sodas and juices. It is a must to remove your aligners if you choose to partake in them, so just by saving yourself the trouble of removing and cleaning them, you can create a significant deficit in your intake, which will translate into weight loss.
Dentist and Personal Trainer?
Warning! Once you start wearing your Invisalign aligners, you may begin to experience some of the above-mentioned benefits of perfecting your teeth and losing weight. And if you're not careful, people may start thinking that your dentist in Chevy Chase doubles as your personal trainer.
About the Author
Dr. Ronan Freyne received his undergraduate degrees in psychology and biology from Georgetown University. He then went to earn his Doctor of Dental Medicine degree from the University of Medicine and Dentistry of New Jersey. Dr. Freyne is a member of the American Dental Association and other professional organizations. He practices at Ronan Freyne DMD and can be reached for more information through his website.
Comments Off

on Perfect Teeth and a Smaller Waist with Invisalign of Chevy Chase
No Comments
No comments yet.
RSS feed for comments on this post.
Sorry, the comment form is closed at this time.