December 29, 2017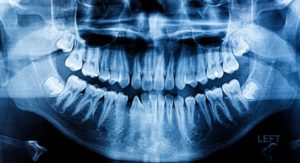 One of the most essential tools your dentist in Chevy Chase uses for patients is an X-Ray machine. X-Rays shine a light on your mouth brighter than any overhead lamp can, telling them exactly what's going on in your mouth. On top of that, dentists use several other types of technology to provide you the best quality care possible.
From scanners to X-Rays to sterilization lasers, learn the tools your dentist uses every day to keep your mouth healthy for years to come.
Why Are X-Rays Important for My Oral Health?
X-Rays help dentists see deep underneath patients' mouths. This way, they can better diagnose any damage, decay, gum disease, or infections that may not visible without an X-Ray.
With this high level of detail available, dentists can view every part of the tooth, including the tooth roots, soft-tissue, and dense tissue for underlying problems. They can also check the health of the bony area around the tooth as well as evaluate the status of developing teeth.
What Is My Dentist Looking For?
Generally, dentists want to evaluate the overall health of your bone and supporting tissues holding your teeth in place. However, if you tell the dentist you're feeling discomfort in a specific part of your mouth or they see an issue they want to investigate further, they have a multitude of X-Ray options available:
Periapical – Designed to show a view of the entire tooth from the crown to the bone.
Bite-Wing – This view offers a lower and upper posterior of your teeth. This is helpful for viewing the back row of teeth specifically.
Panoramic – This shows a view of the teeth, jaws, sinuses, nasal area, and the joints of the jaw. It's usually reserved for patients pursing orthodontic or implant treatment.
Occlusal – This view shows the floor of the mouth so the bite of the upper and lower jaw is visible.
X-Rays allow dentists to be extremely thorough during their examination. Not only are they looking for cavities, but also abscesses under the gums and if any bone loss has occurred since your last visit.
What Are the Methods Dentists Use?
The tool your dentist chooses will largely depend on the type of care they think you need. Below is a breakdown of some of the different tools dentists may use :
Intraoral Cameras – "Intraoral," meaning inside the mouth, allows dentists to take high-resolution pictures of cavities, worn structure, cracks, and many other issues they wouldn't normally be able to see.
Digital X-Rays – Unlike traditional film, digital X-Rays are captured instantly and transferred to a computer for easy viewing. Radiation exposure is also greatly reduced (up to 75%), creating a safer patient experience.
Soft Tissue Laser – Think of this tool as new and improved scalpel designed specifically for periodontal treatment. This focused beam of energy simultaneously removes disease tissue and sterilizes affected areas. This in turn minimizes post-op symptoms that commonly occur after treatment.
Digital Impression Scanner – In the past, impressions have been taken using a soft putty the patient bites into. This device allows dentists to do the same thing but via an entirely digital process, making things like dental restorations cheaper and more effective.
Schedule an appointment with your dentist in Chevy Chase to see the coolest dental technology to date!
About the Author
Dr. Freyne attended Georgetown University to earn his undergraduate degree in psychology and biology. He then went to the University of Medicine and Dentistry of New Jersey to earn his Doctorate of Dental Medicine. He strongly believes that staying up-to-date on the advances in dental technology help him provide the highest standard of care to patients. To learn more about his practice, you can contact him at (301) 986-0700 or visit his website.
Comments Off

on The Most Advanced Technology From Your Dentist in Chevy Chase
No Comments
No comments yet.
RSS feed for comments on this post.
Sorry, the comment form is closed at this time.