December 15, 2017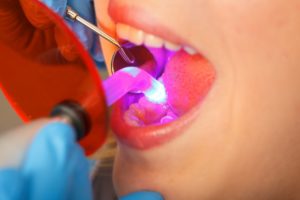 There are very few things in this world more valuable than your time. You want results, and you want them fast. However, you don't want to compromise a great deal of quality. Is this asking for too much? Your cosmetic dentist in Chevy Chase says "No." You can have the smile you desire fast with direct bonding.
What is Direct Bonding and What is It Used for?
Direct bonding is a simple procedure done in one office visit where your dentist in Chevy Chase applies a strong composite material directly to your teeth. This procedure is used for the following situations:
Color – It can cosmetically alter the color of a stained tooth.
Fix a Gap – In some situations, direct bonding can be used to fill the spaces between wide, gapped teeth, saving time and money.
Lengthen Your Teeth – If your teeth appear to be different lengths, direct bonding can cosmetically create the look of an even smile.
Alter Shape – You may have teeth with uneven shapes. Bonding is a great way address to this.
Protecting Your Roots – Your roots may be vulnerable due to receding gums. Bonding helps to protect those exposed areas.
How Long Does the Process Take?
The direct bonding process is relatively fast. It typically takes 30 to 60 minutes to complete one tooth. If you're having more than one tooth done, you can consider addressing this in multiple visits. Conversely, the traditional route of using braces can take 2 or more years for completion. With the direct bonding process, after the 30 to 60-minute procedure, you're done and free to live your life as normal.
Another perk is that the procedure is relatively inexpensive in comparison to braces, ranging from $450 to $1000 per tooth. Cared for properly, they can typically last for 3 to 10 years.
By maintaining excellent oral care, which involves brushing and flossing your teeth at least twice a day, you will extend the life of your direct bonding. It's also important that you schedule visits with your dentist every six months to make sure your oral health is in good condition and to monitor the wear on your direct bonding.
Take the proactive approach by reaching out to your local dentist learn more about direct bonding. And feel free to smile big and bright, letting your true personality shine through.
About the Author
Dr. Ronan Freyne truly loves the world of dentistry and interacting with each patient. He earned his undergraduate degrees in psychology and biology from Georgetown University, and went on to complete his Doctor of Dental Medicine from the University of Medicine and Dentistry of New Jersey. Dr. Freyne is also a member of several professional organizations, including the American Dental Association, Academy of General Dentistry, Maryland State Dental Association, and District of Columbia Dental Society. He practices at Ronan Freyne, DMD and can be reached for more information through his website.
Comments Off

on Cosmetic Dentist in Chevy Chase Offers the Fast Track to a Perfect Smile
No Comments
No comments yet.
RSS feed for comments on this post.
Sorry, the comment form is closed at this time.