November 12, 2017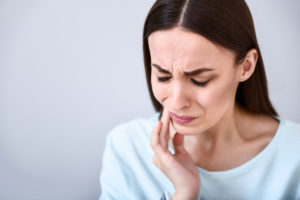 Although it is a bleak reality, the fact remains that there are very few lives today that haven't been touched by cancer in one way or another.
When cancer is brought up, people can relate to it because their mother, father, friend, or colleague has it or knows someone that has it. As much as you don't want to think about it, it is important to consider the very realistic chance of you or a loved one having oral cancer, especially since there are so many risk factors that can contribute to the development of oral cancer.
Your dentist in Chevy Chase wants you to have the information you need to keep your mouth healthy. While many patients who develop oral cancer have a history of tobacco use and/or excessive alcohol consumption, a quarter of all cases occur in patients who have never engaged in these hazardous behaviors. Learn more about how you can avoid developing the disease in this week's blog post.
 Are you at Risk of Developing Oral Cancer?
You may be surprised to hear this, but technically, we're all at risk of developing oral cancer. That's why it's so important to stay on top of your oral health. Here are the most threatening risks to keep in mind.
Tobacco Use Increases Your Risk
Did you know that tobacco accounts for two in every three oral cancer cases? That's a very high ratio! With that statistic in mind, it's hard to imagine (but still true) that one in five people still smoke tobacco products.
There are thousands of chemicals contained in every cigarette that enter your body through your mouth, directly affecting your oral tissues. Also, if you're exposing your family members to second-hand smoke, you're increasing their chances of developing cancer as well. If you stop smoking, you could decrease you and your loved one's chances of developing the disease by a whole third!
And if you use tobacco in another way, you're not off the hook. Chewing tobacco directly effects your mouth because you absorb the chemicals through your mouth's tissues, making them very vulnerable and weak to decay, disease, and infections.
Alcohol Abuse
Large amounts of alcohol can increase your risk of developing oral cancer, by a whole third in fact. It's best to use alcohol in moderation—not just for your oral health but your overall health.
Mixing Tobacco and Alcohol
If you are a mixed consumer, meaning you smoke and drink in copious amounts, your chance of developing oral cancer is increased by up to 30 times! If you know that you use these substances often, it's important to visit your dentist more regularly.
Diseases
Oral cancer is a disease that holds complex risks. You can even develop the disease because of immune deficiencies associated with other health concerns like HIV, HPV, herpes type 1, or medications that suppress the immune system.
With So Many Risks, It's Important to Visit Your Dentist!
Your dentist is here to take a second look at your oral health. Although you may not see signs and symptoms of oral cancer, your dentist may be able to spot abnormalities because of their advanced training and experience. If an abnormality is spotted during your dental appointment, your dentist can conduct a biopsy, so you can receive results in a timely manner.
Remember, early detection is key to surviving the disease, increasing your chances of recovery to 90%!
---
About Your Dentist
Dr. Ronan Freyne and the rest of our team isn't just dedicated to creating gorgeous smiles, we're committed to helping our patients reach and maintain optimal oral health, too.  That's why we offer oral cancer screenings for all patients during their routine exams and cleanings. Contact us today! After all, a simple screening could save your life.
Comments Off

on Dentist in Chevy Chase Says Cancer Screenings Save Lives!
No Comments
No comments yet.
RSS feed for comments on this post.
Sorry, the comment form is closed at this time.