October 13, 2017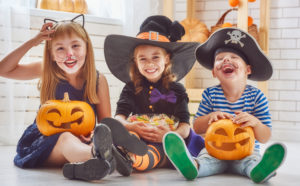 Do you want to hear a secret? Dentists like candy too! In fact, some dentists have a sweet tooth to rival the most candy-crazy kids. The key to keeping your smile healthy and enjoying Halloween treats is to learn which candies to avoid and which are better for your smile. Then, just remember to consume candy and sweets in moderation. Most importantly, brush and floss daily and visit your preventive dentistry team regularly to ensure you maintain a healthy smile.

The Chocolate Choice
Chocolate may be your best tooth-friendly candy option. If you like dark chocolate, that's even better! Dark chocolate has less added sugar, which reduces acidity. Antioxidants and nutrients in chocolate are also good for bone health when eaten in moderation as part of a healthy diet. The most important thing about chocolate is that it's consumed easily without sticking to or building up on teeth, reducing risk for cavities.
Non-Candy Treats
Another option to promote healthier lifestyles is to give out non-candy treats to your trick or treaters like savory snacks. Additionally, as awareness rises to the dangers of allergies to nuts, gluten, and other substances, it may be best to hand out something kids can enjoy that isn't a food item. Some alternative treats to consider include:
Sugar free gum it's kind of a candy, but sugarless gum can improve oral health by removing stuck on food particles

Pretzels, crackers, popcorn, and other snacks

Small toys, crayons, games, or other non-food treats

Toothpaste, toothbrushes, and floss
Sweets to Avoid
It's okay to indulge in the consumption of any food or candy in moderation, but there are some candies that are more damaging to teeth. Some of the most harmful sweets include:
Chewy candies like caramels or taffy that can get stuck in teeth, pull out fillings, and dislodge a tooth or larger restoration

Hard candies and suckers that allow sugars to sit in the mouth for long periods of time

Crunchy treats that may chip, crack, or fracture a tooth
Meet Dr. Freyne
Dr. Ronan Freyne has years of experience working with Chevy Chase patients to keep their smiles healthy, and he loves Halloween! If you want to learn more about how to protect your child's smile from cavities and other damage during the holiday season, please don't hesitate to give us a call. We'll be happy to work with you and your children to maximize the benefits of at-home oral hygiene and in-office preventive dental treatments. Dr. Freyne invites you to stay up to date with his dental blog to learn more about the wide range of services we offer.
Comments Off

on What Kind of Candy do Dentists Give Out at Halloween?
No Comments
No comments yet.
RSS feed for comments on this post.
Sorry, the comment form is closed at this time.