September 22, 2017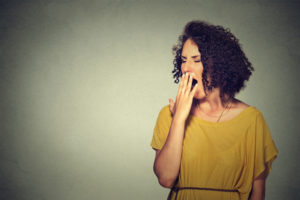 Are you among the 22 million Americans suffering from sleep apnea? If chronic snoring and interruptions in breathing are keeping you awake at night, you need an effective form of treatment from your dentist in Chevy Chase. However, you have yet to take the initiative to explore your options. As a result, you are not currently treating the disorder. Although you may believe that the only complications involve lack of sleep and daytime fatigue, you are also placing your overall health at risk. Without sleep apnea therapy, the condition will take a toll on your body.

Living with Sleep Apnea
The most common form of sleep apnea involves an obstruction in the airway, which causes you to stop breathing frequently throughout the night. With each event potentially lasting for longer than one minute, it deprives your body of oxygen. Not only will you develop daytime fatigue, moods swings, and sleep deprivation, but your body will also be negatively impacted if you do not treat the condition.
Respiratory System: The lack of adequate oxygen levels can cause you to experience worsening of asthma and chronic obstructive pulmonary disease symptoms. In addition, you may deal with shortness of breath throughout the day.
Endocrine System: Untreated sleep apnea increases your risk for developing type 2 diabetes as you can become insulin resistant. Those with the condition are also associated to have a metabolic syndrome, which increases your risk for weight gain.
Digestive System: Fatty liver disease, liver scarring, and abnormal liver enzymes are also linked with the sleep disorder. In some cases, you can have an increase in heartburn and GERD.
Circulatory and Cardiovascular System: The lack of oxygen places strain on your heart, increasing your risk for heart arrhythmias, atrial fibrillation, heart attack, and stroke. Heart failure is directly linked to the sleep disorder as well.
Reproductive System: Leaving the condition untreated can lower your sex drive while also contributing to erectile dysfunction in men.
Protect Your Health
Overall, untreated sleep apnea drastically decreases your quality of life while placing your body at risk for serious complications. To protect yourself, you need an effective treatment option. Often, a CPAP machine is used, which delivers a steady stream of air through a mask that is worn while you sleep. However, you may also be a candidate for an oral appliance, which repositions the jaw forward to keep the airways open.
Dentist Near Me for Sleep Apnea
If you are ready to restore your quality of life and your overall health, look for a dentist in your area who offers treatment for the condition.
About Dr. Ronan Freyne
Dr. Ronan Freyne is more than just a general dentist. Due to his extensive training and qualifications, he provides services for specialty care, including the treatment of sleep apnea. If the disorder is keeping you awake at night, it is time to breathe easier and sleep better. Contact our office today to schedule a consultation to explore your treatment options.
Comments Off

on Dentist in Chevy Chase will Protect Your Body from Sleep Apnea Complications
No Comments
No comments yet.
RSS feed for comments on this post.
Sorry, the comment form is closed at this time.