September 12, 2017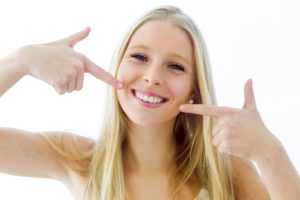 The appearance of your smile is important to your self-esteem; however, if you are like one-third of adults, you probably do not like what you see in the mirror. When you suffer from alignment issues, the gaps and overcrowding can cause you to feel insecure. While you have considered orthodontics in the past, you do not want to spend the time or the money on braces. Instead, you see many DIY videos and tutorials online that offer the results you want. While it may seem like the perfect solution, it is best to visit your dentist for Invisalign in Chevy Chase to prevent causing irreversible damage to your teeth.

Don't Damage Your Smile with DIY Braces
Now, social media streams and online forums are flooded with at-home braces that claim to offer effective results without having to spend a dime at the dentist. However, if you turn to these trends, you can cause serious damage to your teeth and gums.
If you try to move your teeth on your own, you can hurt their blood supply. As a result, the gums will experience pressure and lack of blood flow, leading to inflammation and infection. This raises your risk for bone loss, root damage, and even tooth loss.
Although many have claimed to achieve positive results with these trends, it takes carefully training to properly move your teeth and control the alignment to prevent complications. If you had your hopes set on getting a straight smile without traditional braces, do not worry. You still have options available.
Invisalign and Six-Month Smiles
Now, you can get the straight smile you have always wanted using fast and discreet alternatives to traditional braces. Invisalign uses a series of clear plastic aligners that are worn over the teeth to gradually move them into position. On average, it only takes about 12 months to finish the treatment while you enjoy less restrictions and added comfort when compared to metal braces.
If you would like to achieve results quicker, Six Month Smiles may be the solution for you. As the name indicates, you will have properly aligned teeth in half a year. This treatment only moves the teeth that show when you smile, making the movement faster and more comfortable.
Get a Straight Smile Today
If you are ready to love the smile that you see in the mirror, do not take the risk of damaging it further with DIY braces. Instead, visit your dentist in Chevy Chase to find the orthodontic treatment that is right for you.
About Dr. Ronan Freyne
Dr. Ronan Freyne provides high quality dental care from his caring and comfortable office. With a focus on developing personalized relationships with each patient, he creates individualized solutions to help you achieve a healthy, beautiful smile. Due to his advanced training and qualifications, he provides an array of specialty services, including orthodontics. If you are interested in aligning your teeth, contact our office today to schedule a consultation for a straight smile.
Comments Off

on Don't Risk DIY Braces. Choose Invisalign in Chevy Chase
No Comments
No comments yet.
RSS feed for comments on this post.
Sorry, the comment form is closed at this time.