August 18, 2017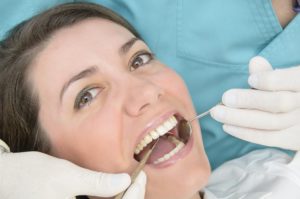 Preventive dental checkups are an essential part of personalized oral health care plans for every dental patient. During these visits, a general dentist is able to asses your current level of health, make recommendations to improve your smile, and create an ongoing plan to ensure you achieve and maintain your healthiest smile. The American Dental Association encourages dentists and patients to maintain a thorough preventive dentistry routine to avoid unnecessary tooth decay or oral health concerns and keep natural teeth whole and healthy for life.

Keep Your Smile Healthy
Most dental health issues have only mild symptoms that can be easily overlooked by the untrained eye, and without treatment, oral health conditions typically become worse. Regular preventive dentistry appointments give the dentist an opportunity to partner with you to keep your smile healthy. With regular dental visits and thorough at-home hygiene, most patients are able to prevent the vast majority of oral health problems.
Repair Concerns in the Earliest Stages
When we're unable to prevent oral health issues like tooth decay or gum disease, regular checkups allow us to diagnosis these issues in the earliest possible stages. That means the minimally invasive treatments we recommend will maximize the preservation of healthy tooth structure. For instance, early diagnosis of tooth decay (cavities) means restoration with a simple filling is possible rather than more advanced dental crowns or root canal therapy. Gum disease in the early stages can usually be repaired with more frequent professional teeth cleanings, but when it's caught in later stages, patients will need more advanced periodontal therapies in addition to an increased number of teeth cleaning appointments.
Maintain Your Natural Teeth for Life
In the Victorian era, dentures were a popular wedding gift because most people lost some or all of their teeth at some point in life. The shift from reactionary dental care after a problem occurs to preventive dentistry has dramatically decreased the number of patients who experience major or entire tooth loss. The goal of regular dental checkups is to preserve your healthy, beautiful, natural smile throughout your entire lifetime.
Meet Dr. Freyne
At the Chevy Chase dental office of Ronan Freyne, DMD, we encourage patients to learn more about how to keep their smiles whole and healthy for life. In our experience, an educated patient is better able to make treatment options that will deliver their desired results. We are always happy to answer questions, show you examples of treatment results, and of course, our monthly blog provides more information about the variety of treatments we offer. Call our team if you ever have questions or want to schedule an appointment with our caring dentist.
Comments Off

on Why do I Need Biannual Dental Checkups?
No Comments
No comments yet.
RSS feed for comments on this post.
Sorry, the comment form is closed at this time.