August 8, 2017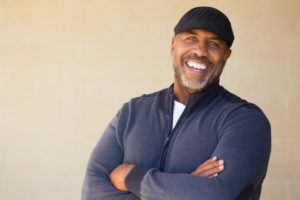 Many people think they don't have to replace a missing tooth, especially if it's in the back. However, even one missing tooth can adversely affect oral health. Missing teeth allow surrounding teeth to shift out of their ideal alignment. Over time, the supportive gum tissue and jawbone are diminished, and this can lead to the loss of additional teeth. While traditional tooth replacement solutions only addressed the missing dental structure that's visible above the gum line, dental implants are actually used to replace the root system of missing teeth. That makes dental implant supported tooth replacement an ideal option for many patients missing one or more teeth.

1 – Natural Looking & Feeling
Perhaps the most obvious and most important benefit dental implant supported tooth replacements have over other options is the closer-to-natural look, feel, and function of the end result. Because dental implants replace the missing tooth root and securely anchor a more natural looking prosthetic, they stand head and shoulders above the other treatment options.
2 – Long Lasting
Traditional tooth replacement options, especially the more advanced dentures, need to be periodically refitted or replaced. Dental implant supported tooth replacement prosthetics offer a much longer lasting restoration. In many cases, patients are able to maintain their implant supported replacement tooth for decades, and with thorough dental care, your restoration may last a lifetime.
3 – Improved Stability
The very best traditional dentures only renew about 30% of healthy tooth function. Dental implant supported partial and full dentures restore 70% or more of a patient's chewing ability. That means you have the confidence to bite into an apple in public, knowing your denture will stay firmly in place.
4 – Better Overall Oral Health
Without the root systems of teeth, the supportive soft tissue and bone do not receive adequate stimulation, and they begin to break down. Over time, this loss of supportive structure can lead to further tooth loss, increased risk for dental wear and damage due to shifting bite alignment, and further loss of teeth. Replacing the lost root and the crown of the tooth means you'll retain your natural gum tissue volume and shape and jawbone density.
Meet Dr. Freyne
Dr. Ronan Freyne and his Chevy Chase dental team are dedicated to keeping patients in the know when it comes to their dental health care options. Visiting our blog regularly is one great way to stay abreast of all the latest dentistry developments. You can also contact our team to schedule a consultation or treatment visit at any time. We're always happy to help our patients better understand their oral health and hygiene options.
Comments Off

on 4 Benefits of Dental Implants over Other Tooth Replacement Options
No Comments
No comments yet.
RSS feed for comments on this post.
Sorry, the comment form is closed at this time.