Dental Crowns & Bridges - Chevy Chase, MD
Rejuvenate Your Smile with Dental Expertise
If you're struggling with one or more teeth that are injured, decayed, or lost altogether, a custom-made restoration can help correct the problem and restore your oral health to its fullest potential. Contact our Chevy Chase, MD practice today to schedule a first appointment, or if you have any questions for our staff. Dr. Ronan Freyne looks forward to providing you with a skilled and comfortable and caring experience that leaves you ready to smile.
Dental Crowns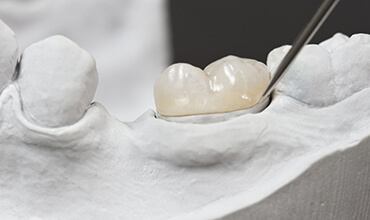 Dental crowns are designed to cover individual teeth, helping to improve the shape, strength, and function of the dental structure while preserving the natural portion underneath. Having a dental crown created typically takes two appointments – one in which Dr. Freyne will prepare the new tooth and take a detailed impression to be sent to a dental lab, and another where we will place the finished, custom-made restoration over the affected tooth. There are several reasons why our team may recommend a new crown, including the following:
A tooth is suffering from advanced decay that is too severe for a filling.
A tooth has an existing filling that needs additional support.
A tooth has been cracked, fractured, or otherwise injured.
A tooth is suffering from cosmetic dental imperfections that need correction.
A missing tooth has been replaced with a dental implant that needs restoration.
Fixed Bridges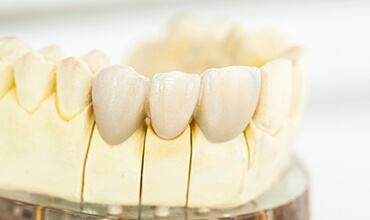 Fixed bridges are designed to replace one or more missing consecutive teeth along a single arch of the mouth. Unlike traditional dentures, bridges are anchored in place within the mouth by attaching dental crowns over adjacent healthy teeth in order to keep the prosthetic securely in place – for this reason, the ongoing success of your new bridge will depend on the health of the surrounding teeth and jaw. With a new bridge in place, patients are able to improve their biting stress and better maintain the natural shape of their face.
Dental Crowns FAQs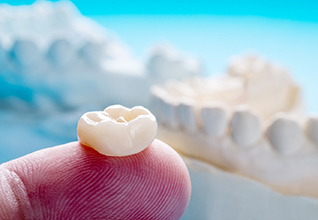 Interested in getting a dental crown from a restorative dentist in Chevy Chase? From improving your appearance to protecting your tooth and offering durability, there's a lot to like about adding a crown to your smile. At the office of Dr. Ronan Freyne, we'll go over all the details of this choice during your consultation so you can feel confident in your decision. Before you even sit down with our dentist, keep reading to check out some frequently asked questions from our patients about dental crowns.
Do Dental Crowns Get Cavities?
While it's technically impossible for a crown to develop a cavity, the tooth underneath it still could. A crowned tooth has a similar risk of decay compared to an uncrowned one. Poor oral hygiene makes it possible for bacteria and plaque to form where the tooth meets the crown; if they spread underneath the crown, it could mean major trouble for the tooth. Cavity prevention for crowned teeth is the same method as uncrowned – daily brushing and flossing with regular checkups and cleanings.
Does It Hurt to Get a Dental Crown?
Your dentist numbs the tooth they need to work on when you get a crown. That usually means a topical anesthetic, but if you have severe anxiety, they may use dental sedation. Of course, they'll check to see what you prefer. After your tooth is prepped for a crown, it may be sensitive for a few days, particularly if you also had a root canal. Since a crown protects a vulnerable tooth from damage, in the long run, it will likely prevent pain instead of causing any!
What Happens If You Wait Too Long to Get a Dental Crown?
Waiting too long to get dental crowns in Chevy Chase can have some detrimental consequences on your oral health and your wallet. For example, if the root of the problem is decay, the infection can continue to delve deeper into the tooth, increasing your risk of needing a root canal or an extraction. Therefore, it's always best to schedule the procedure sooner rather than later.
What's the Difference Between a Temporary Crown and a Permanent Crown?
As you might expect, a temporary crown is not meant to last a long time – just a few weeks while your permanent crown is fabricated in a lab. Temporary ones are made from inexpensive materials like acrylic or composite resin. They are bonded with weak cement, so removal is easy when it's time for your permanent crown to be placed. Your permanent one will be bonded with stronger cement and made of more durable materials like gold, silver, porcelain-bonded-to-metal, or ceramic to withstand chewing and biting pressure for at least 5-15 years.